'The welfare state has done to black Americans what slavery couldn't do. . . . And that is to destroy the black family.'
JASON L. RILEY(WSJ)-'Sometimes I sarcastically, perhaps cynically, say that I'm glad that I received virtually all of my education before it became fashionable for white people to like black people," writes Walter Williams in his new autobiography, "Up from the Projects." "By that I mean that I encountered back then a more honest assessment of my strengths and weaknesses. Professors didn't hesitate to criticize me—sometimes to the point of saying, 'That's nonsense.'"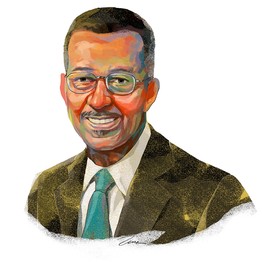 Mr. Williams, an economist at George Mason University, is contrasting being black and poor in the 1940s and '50s with today's experience. It's a theme that permeates his short, bracing volume of reminiscence, and it's where we began our conversation on a recent morning at his home in suburban Philadelphia.
"We lived in the Richard Allen housing projects" in Philadelphia, says Mr. Williams. "My father deserted us when I was three and my sister was two. But we were the only kids who didn't have a mother and father in the house. These were poor black people and a few whites living in a housing project, and it was unusual not to have a mother and father in the house. Today, in the same projects, it would be rare to have a mother and father in the house."
Even in the antebellum era, when slaves often weren't permitted to wed, most black children lived with a biological mother and father. During Reconstruction and up until the 1940s, 75% to 85% of black children lived in two-parent families. Today, more than 70% of black children are born to single women. "The welfare state has done to black Americans what slavery couldn't do, what Jim Crow couldn't do, what the harshest racism couldn't do," Mr. Williams says. "And that is to destroy the black family."
Government programs and regulations are favorite butts of the professor, who is best known today for his weekly column—started in 1977 and now appearing in more than 140 newspapers—and for his stints guest-hosting Rush Limbaugh's popular radio program. Libertarianism is currently in vogue, thanks to the election of a statist president and the subsequent rise of the tea party movement. But Walter Williams was a libertarian before it was cool. And like other prominent right-of-center blacks—Clarence Thomas, Thomas Sowell, Shelby Steele—his intellectual odyssey began on the political left.
"I was more than anything a radical," says Mr. Williams. "I was more sympathetic to Malcolm X than Martin Luther King because Malcolm X was more of a radical who was willing to confront discrimination in ways that I thought it should be confronted, including perhaps the use of violence.
"But I really just wanted to be left alone. I thought some laws, like minimum-wage laws, helped poor people and poor black people and protected workers from exploitation. I thought they were a good thing until I was pressed by professors to look at the evidence."
During his junior year at California State College in Los Angeles, Mr. Williams switched his major from sociology to economics after reading W.E.B. Du Bois's "Black Reconstruction in America," a Marxist take on the South's transformation after the Civil War that will never be confused with "The Wealth of Nations." Even so, the book taught him that "black people cannot make great progress until they understand the economic system, until they know something about economics."
He earned his doctorate in 1972 from UCLA, which had one of the top economics departments in the country, and he says he "probably became a libertarian through exposure to tough-mined professors"—James Buchanan, Armen Alchian, Milton Friedman—"who encouraged me to think with my brain instead of my heart. I learned that you have to evaluate the effects of public policy as opposed to intentions."
Mr. Williams distinguished himself in the mid-1970s through his research on the effects of the Davis-Bacon Act of 1931—which got the government involved in setting wage levels—and on the impact of minimum-wage law on youth and minority unemployment. He concluded that minimum wages caused high rates of teenage unemployment, particularly among minority teenagers. His research also showed that Davis-Bacon, which requires high prevailing (read: union) wages on federally financed or assisted construction projects, was the product of lawmakers with explicitly racist motivations.
One of Congress's goals at the time was to stop black laborers from displacing whites by working for less money. Missouri Rep. John Cochran said that he had "received numerous complaints in recent months about Southern contractors employing low-paid colored mechanics." And Alabama Rep. Clayton Allgood fretted about contractors with "cheap colored labor . . . of the sort that is in competition with white labor throughout the country."
Today just 17% of construction workers are unionized, but Democratic politicians, in deference to the AFL-CIO, have kept Davis-Bacon in place to protect them. Because most black construction workers aren't union members, however, the law has the effect of freezing them out of jobs. It also serves to significantly increase the costs of government projects, since there are fewer contractors to bid on them than there would be without Davis-Bacon.
Analysis of this issue launched Mr. Williams's career as a public intellectual, and in 1982 he published his first book, "The State Against Blacks," arguing that laws regulating economic activity are far larger impediments to black progress than racial bigotry and discrimination. Nearly 30 years later, he stands by that premise.
"Racial discrimination is not the problem of black people that it used to be" in his youth, says Mr. Williams. "Today I doubt you could find any significant problem that blacks face that is caused by racial discrimination. The 70% illegitimacy rate is a devastating problem, but it doesn't have a damn thing to do with racism. The fact that in some areas black people are huddled in their homes at night, sometimes serving meals on the floor so they don't get hit by a stray bullet—that's not because the Klan is riding through the neighborhood."
Over the decades, Mr. Williams's writings have sought to highlight "the moral superiority of individual liberty and free markets," as he puts it. "I try to write so that economics is understandable to the ordinary person without an economics background." His motivation? "I think it's important for people to understand the ideas of scarcity and decision-making in everyday life so that they won't be ripped off by politicians," he says. "Politicians exploit economic illiteracy."
Which is why, he adds, the tea party movement is a positive development in our politics and long overdue. "For the first time in my lifetime—and I'm approaching 75 years old—you hear Americans debating about the U.S. Constitution," he says. "You hear them saying 'This is unconstitutional' or 'We need limits on government'—things that I haven't heard before. I've been arguing them for years, but now there's widespread acceptance of the idea that we need to limit the government."
Still, he's concerned about how far the country has strayed from the type of limited government envisioned by the Founding Fathers. "In 1794, Congress appropriated $15,000 to help some French refugees," he says. In objection, "James Madison stood on the House floor and said he could not take to lay his finger on that article in the Constitution that allows Congress to take the money of its constituents for the purposes of benevolence. Well, if you look at the federal budget today, two-thirds to three-quarters of it is for the purposes of benevolence."
Mr. Williams says that "if there is anything good to be said about the Democratic White House and the [previous] Congress and their brazen attempt to take over the economy and control our lives, it's that the tea party movement has come out of it. But we have gone so far from the basic constitutional principles that made us a great country that it's a question of whether we can get back."
The place to start, says Mr. Williams by way of advice to the new Republican House, is on the spending side of the federal ledger. "We need a constitutional amendment that limits the amount of money the government can spend," he says. "Let's say 18% of GDP to start. The benefit of a spending limitation amendment is that you're going to force Congress to trade off against the various spending constituencies. Somebody says, 'I want you to spend $10 billion on this,' and the congressman can respond, 'My hands are tied, so you have to show me where I can cut $10 billion first.'"
Mr. Williams says he hopes that the tea party has staying power, but "liberty and limited government is the unusual state of human affairs. The normal state throughout mankind's history is for him to be subject to arbitrary abuse and control by government."
He adds: "A historian writing 100 or 200 years from now might well say, 'You know, there was this little historical curiosity that existed for maybe 200 years, where people were free from arbitrary abuse and control by government and where there was a large measure of respect for private property rights. But then it went back to the normal state of affairs.'"
Hoping to end our conversation on a sunnier note, I pose a final question about race. "A Man of Letters," Thomas Sowell's fabulous book of correspondence, includes a letter the Stanford economist sent in 2006 to Mr. Williams, whom he's known for four decades. "[B]ack in the early years," writes Mr. Sowell, "you and I were pretty pessimistic as to whether what we were writing would make an impact—especially since the two of us seemed to be the only ones saying what we were saying. Today at least we know that there are lots of other blacks writing and saying similar things . . . and many of them are sufficiently younger that we know there will be good people carrying on the fight after we are gone."
Asked if he shares his friend's optimism, Mr. Williams responds that he does. "You find more and more black people—not enough in my opinion but more and more—questioning the status quo," he says. "When I fill in for Rush, I get emails from blacks who say they agree with what I'm saying. And there are a lot of white people questioning ideas on race, too. There's less white guilt out there. It's progress."