Egypt has been embroiled in political turmoil since protests, inspired by those that overthrew the regime in Tunisia, started last week.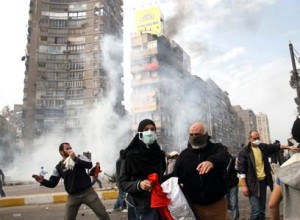 While Egypt, and its Suez Canal, have been worry one for investors world wide since last week, the next big question is whether this dissent could spread to other countries around the region, and world.
It's a challenge to state led authoritarian capitalism, but it is also a response to rising food costs and soaring unemployment. There is also the social media factor, which has allowed protesters to circumvent traditional state run media sources and organize more efficiently.
What countries offer a similar mixture to that found in Egypt? And what investments are at stake?
1. Morocco: Reforms already lined up:
Morocco's government has already undergone democratic reforms, so any political pressure would likely be responded to in a similar manner, with more reforms. Those very reforms have been suggested by a government commission, so Morocco seems pretty safe at the moment, prepared to adjust if things get out of hand.
2. Jordan: King Abdullah tries to get ahead of the crisis:
Jordan is already experiencing protests related to these factors. The government is responding by providing food and fuel subsidies. King Abdullah just sacked his government and appointed a new one with reforms priority number one. Whether the government moves fast enough to implement these reforms will be the deciding factor in the future size of protests and threat to the regime.
3. Syria: President pushing for reform already:
The economic situation is not as dire in Syria as in other countries. The regime is, arguably, more ruthless than its Egyptian counterpart. The President believes his partnership with Iran and support for the Palestinian cause will keep him safe, and he's already pushing for reforms. Syria's state may be too powerful for the little protest movement developing to flourish.
4. Saudi Arabia: Massive military strength may be enough to quell social dissent:
Saudi Arabia has seen some small protests, but over the government response to flooding, not rising costs and unemployment. There are concerns on the streets that the country doesn't have proper infrastructure and is recklessly spending its oil riches. The repressive regime is unlikely to fall under these smaller concerns, but its youth unemployment problem (42%) and religious minority (Shia) could eventually exert real pressure.
5. Iran: Could things kick off again in Tehran?:
Iran crushed its most recent protest movement. If inflation continues to rise, the sentiment may become more popular, and Egypt's revolution could inspire Iranians back to the streets.
6. Libya: Time may be running out for Gaddafi?:
Libya would seem a good bet. It's stuck between revolutionary Tunisia and Egypt. Its leader is regarded as an international eccentric. He wants his son to take over, and the public's not pleased. Financial squalor is probably worse than estimated. Whether or not social media could assist is unknown, but Libya is a likely future front in the spillover.
7. Yemen: Serious unemployment problem and an Al Qaeda threat:
Yemen has the deepest unemployment problem in the region, and likely a serious inflation problem too. There's a large terrorist group in the country, as it is a headquarters for Al Qaeda in the Arabian Peninsula. Protests are already significant. There is a sincere likelihood of change here, or, and this might be worse, further radicalisation of the population. Unemployment is in upwards of 40% in Yemen.
8. Pakistan: Democracy under threat as state remains unstable:
Pakistan has a serious economic crisis, a weakness of state shown in recent flooding, confused positions over the U.S. and Taliban, as well as large anti-government, pro-Muslim fundamentalist forces.
The potential for change is there. The biggest power source remains the military, however, and another coup, similar to the one that brought Musharaf to power, could occur.
9. Vietnam: A sharp recession could lead to opposition against Communist rule:
In Asia, Vietnam looks a likely candidate for protests, particularly if the economy slows down and unemployment increases. The economic trigger for a downturn would need to be pulled, however, before any change would take place.
10. Venezuela: Has Hugo Chavez outstayed his welcome?:
The economic numbers scream change, but there's no way to know whether or not Chavez has outstayed his welcome. The country hasn't had the same, long-term oppressive experience as a country like Egypt. And its leadership still appeals to the anti-American sentiment held by the populace.
11. China: Could a severe economic downturn derail the Chinese regime?:
China has all the ingredients except the big one: unemployment. Now, there's no guarantee rural China won't see an uprising related to soaring prices and high unemployment there, but it's unlikely to be passed on to the country's cities. It would take a massive economic downturn, like one created by a liquidity crisis leading to a banking crisis leading to a recession, to trigger an unemployment surge that would threaten the regime.