Minister Eli Yishai toured on Sunday the newest and most advanced firefighting aircraft, the Beriev Be-200. The tour comes following a decision by Prime Minister Binyamin Netanyahu to improve Israel's air capabilities during situations of raging wildfires.
The capabilities of the Beriev Be-200, a Russian aircraft, were demonstrated during the Carmel wildfire last December, when it was used by Israel as part of the firefighting efforts. It is now being offered to Israel for sale.
The video below outlines all the special features of the Beriev Be-200:
The aircraft has an advantage over similar competing aircraft both in terms of its response time as well as in the quantity of water that it can carry. The Beriev Be-200 can carry up to 12.5 tons of water and the high speed at which it can move allows it to quickly arrive at a source of water and begin performing the task of putting out any fire.
In addition to putting out fires, the aircraft can perform a variety of other tasks including rescues at sea, marine patrols, securing maritime drills, transporting cargo and the like.
"The advantages of this plane are obvious," Yishai said following the tour. "I'll pass my impressions on."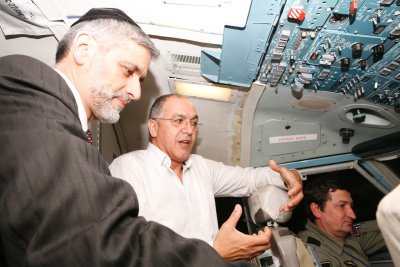 MK Yishai inspects the BE-200 plane (Photo by Uri Carmi)
(IsraelNationalNews.com)
Source material can be found at this site.