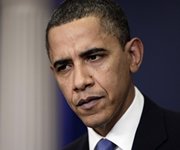 It seems the Pittsburgh Steelers weren't the only ones having a bad day Sunday: Tax watchdogs are flagging President Barack Obama for lecturing Fox News host Bill O'Reilly that he's never raised taxes.
One anti-tax expert even called Obama's assertion a "pre-meditated lie."
The "no new taxes" pledge from Obama came during his exclusive pre-Super Bowl interview with O'Reilly, the denizen of no-spin television.
O'Reilly asked the president to comment on a recent Wall Street Journal editorial charging that Obama aims to redistribute Americans' wealth.
A bristling Obama insistent he "absolutely" denies that charge — and went on to insist that he'd never raised taxes.
"I didn't raise taxes once," Obama told O'Reilly. "I lowered taxes over the last two years. I lowered taxes for the last two years."
There's just one small problem for that statement from the president: Everyone from tax watchdogs to newspaper editors to independent fact-checking organizations say it's simply not true.
"He lied," Americans for Tax Reform founder and President Grover Norquist flatly tells Newsmax.
Obama has raised taxes more than 20 times, Norquist says.
Just 16 days after taking office, for example, the president signed legislation doubling the federal tax on cigarettes — a tax economists say disproportionately affects those earning less than $250,000 a year.
During the campaign, Obama promised he would raise taxes only on those earning less than $250,000.
"So the lie 'I didn't raise taxes' and the lie 'I won't raise taxes on people who earn less than $250,000' were merged together," Norquist contends.
Obama's defenders say he was referring only to raising income taxes, however.
Also, numerous tax increases were included in the president's Patient Protection and Affordable Care Act.
Among them: a tax on medical-device makers, a tax on withdrawals from health-savings accounts, a $27 billion "fee" on pharmaceutical manufacturers, an excise tax on high-end health insurance plans, a tax on indoor tanning businesses, and an increase in the Medicare payroll tax.
In all, Norquist says, the Affordable Care Act includes up to 24 new taxes.
But what drew the sharpest rebuke from Norquist was the specific wording that Obama used to assert that he lowered taxes "for" the past two years.
"Why would you say that?" asks Norquist. "Note the wording: Not 'In the last two years I lowered taxes,' but 'for the last two years I lowered taxes.'"
The distinction, Norquist says, is that Obama's tax reductions last for only about two years. But the tax increases, which Norquist says will lighten Americans' wallets to the tune of $618 billion, are permanent.
"Ninety percent of all the tax cuts he ever signed into law are temporary," Norquist says, "but 100 percent of all of the tax increases he passed are permanent.
"So, if you plan on living for two years, he has cut taxes. If you plan on living beyond two years, he's passed massive tax increases on you that are permanent."
The precise wording of Obama's response shows he was "coached" on how to parse his actual tax policy, Norquist tells Newsmax. "This is a premeditated lie he did . . . they sat down and had to work hard to design this lie," he tells Newsmax.
The anti-tax crusader has plenty of company in his criticism of the president's controversial tax assertion:
The independent Politifact.org labeled as false Obama's assertion that he didn't raise taxes once. "It's not true that Obama didn't raise taxes once," the website stated. "We've documented several tax increases, most notably taxes on cigarettes and indoor tanning. We rated that statement 'False.' On the other hand, it found his statement that he had lowered taxes over the past two years 'mostly true.'"
Another prominent site that monitors accuracy, Factcheck.org, found Obama's blanket denial to be inaccurate. In an article titled "Obama's Tax Tale," it stated: "Cigarette smokers and fans of indoor tanning may be among those to disagree with that statement."
A Wall Street Journal editorial offered to refresh the president's memory about the measures he had signed into law, "all of which are de facto tax increases because these collections will be passed on to consumers as higher costs."
*Heritage Foundation senior tax-policy analyst Curtis Dubay tells Newsmax he's "surprised the president would say such a thing." Obamacare, he says, "can be looked at as an enormous tax bill with some health-care provisions thrown in." Dubay estimates the bill will raise taxes by nearly half a trillion dollars over the next decade.
The bottom line with the administration's policies, Norquist contends: "Every American is going to be paying dramatically higher taxes because of this president, unless Republicans change everything after he goes away, from now until infinity. The tax cuts you have lapse in the next two years."
Temporary tax cuts add to the uncertain business climate companies blame for the economy's lack of job creation, he says.
"It is not pro-growth to cut taxes temporarily," Norquist says. "It may move activity that was going to take place four years from now to take place in the next two years, which is probably helpful if you're running for president. But it doesn't make the country stronger.
R