The Times: Illustrating Israeli "Belligerency"
During an "emergency tour" of the Middle East following recent regional upheaval, UK Foreign Secretary William Hague gave an interview to The Times, expressing his fears for the future of the Middle East peace process. According to The Times (subscription only):
Mr Hague responded to increasingly militaristic pronouncements by Mr Netanyahu, who has been urging his nation to prepare for "any outcome" and vowing to "reinforce the might of the state of Israel". The Foreign Secretary said: "This should not be a time for belligerent language. It's a time to inject greater urgency into the Middle East peace process."
Many would take issue with Hague's apparent linkage between events in Egypt and elsewhere in the Arab world and Israel, not to mention describing Israel's expressed and very real fears of a Muslim Brotherhood takeover in Egypt as "belligerent". (Melanie Phillips deconstructs Hague's comments here.) Putting that aside, we were extremely concerned at The Times' coverage of Hague's comments: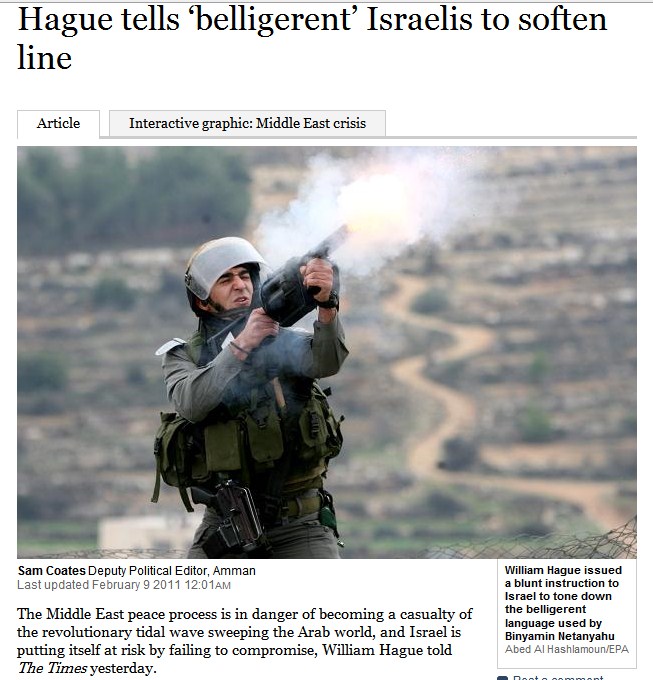 As our Shattered Lens study has demonstrated, the choice of photos to illustrate a story is extremely important. In this case, The Times chose not to use an image of Hague but one of an Israeli soldier firing tear gas – presumably to buttress the portrayal of Israel as "belligerent".
Why did The Times choose this photo? Please request that a more suitable and appropriate image is used online – [email protected]
Source material can be found at this site.