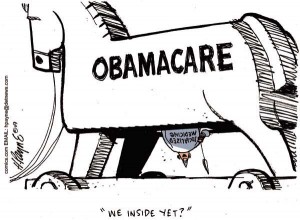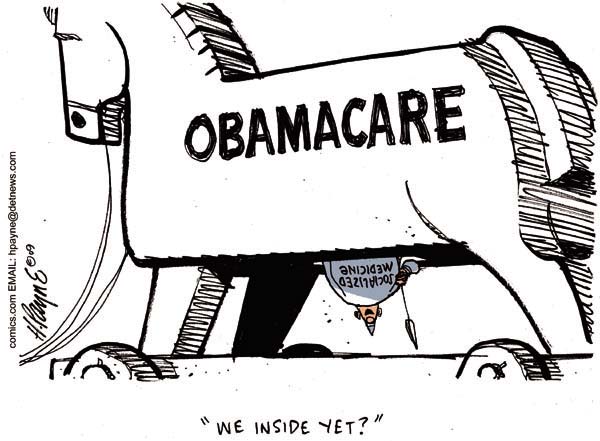 WASHINGTON — The Republican-controlled House voted Friday to choke off cash to fund President Barack Obama's healthcare reform law, stepping up a fight with Democrats over budget cuts and deficits.
The move against the 2010 healthcare law — one of Obama's main legislative victories — is certain to be rejected in the Democratic-led Senate, but it has escalated tensions over federal spending that could lead to a government shutdown.
On largely party lines votes, the House approved several amendments to deny funds to federal agencies to implement the healthcare overhaul, which Republicans deride as a costly government intrusion into the marketplace.
Financial markets are closely watching fights over spending, as Obama and Republicans position themselves for the 2012 presidential election, and Republicans flex their muscles after congressional election victories last year.
Political gridlock could cause a shutdown of government next month, and a separate showdown over whether to allow the United States to borrow more is also brewing.
The healthcare measures were part of a Republican-led bill that would cut spending for domestic programs by $61.5 billion through September to try to rein in the record U.S. budget deficit.
A temporary bill to fund the government expires March 4, and failure to reach agreement means lawmakers will either have to pass another stopgap spending bill or allow many government operations to come to a halt.
Democratic Rep. Sander Levin said the risk of a federal shutdown was heightened by the Republicans' healthcare amendment.
"Instead of searching for common ground, this amendment intensifies warfare," Levin said. "The Republicans have become a wrecking crew."
Republicans say the healthcare reform burdens doctors, insurers, and employers with unnecessary costs and bureaucracy as the country is slowly recovering from a recession. The law is aimed at ensuring more Americans get medical insurance and provide consumer protections in the healthcare industry.
The House was expected to approve the broad spending bill, which would slash domestic programs for the rest of this fiscal year, Friday or early Saturday.
Polls show Americans are sharply divided on the healthcare law. Republicans cite their elections win last year to justify holding back healthcare law money.
"The American people in November said it's time not only to repeal this but to defund this," Republican Representative Tom Graves said. Republicans won control of the House in November.
The healthcare amendment is just one of many Republican measures, a number of them backed by the tea party movement, that Obama and the Senate are expected to reject.
Obama has outlined his own plan for less severe spending cuts in 2012 to shrink a deficit expected to be around $1.65 trillion this year, equivalent to 10.9 percent of the economy.
He has warned that tightening the belt too much too soon could harm the slow economic recovery.
On Thursday, the House approved an amendment to deny $131 million for the Securities and Exchange Commission which could hinder its attempts to implement last year's financial regulation law that cracked down on Wall Street.
Conservative Republicans were also pushing an amendment to give the Treasury Department the ability to avoid a debt default if U.S. borrowing authority runs out, highlighting possible dire consequences of political gridlock.
The proposal has been described by Treasury Secretary Timothy Geithner as "unworkable." Even if it gets through the House, it is certain to be blocked in the Senate.