If the stock market performance was an accurate measure of economic health, then Zimbabwe would have had one of the healthiest economies on the entire globe during the last decade.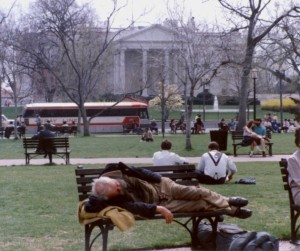 Just like Zimbabwe's stock market was artificially pumped up with "funny money" that was rapidly being devalued, so is the United States. All of the "quantitative easing" that the Federal Reserve has been doing is pumping plenty of money into the financial markets and is helping to inflate a false stock market bubble, but it is doing very little to alleviate the suffering of the U.S. middle class
If there are those among your family and friends that are somehow convinced that the U.S. economy is recovering nicely, you might want want to show them the following 18 very sobering facts….
#1 According to Gallup, the U.S. unemployment rate is currently 10.3 percent. When you add in part-time American workers that want full-time employment, that number rises to 20.2 percent.
#2 According to the U.S. Bureau of Labor Statistics, the number of job openings in the United States declined for a second straight month during December.
#3 There are currently more than 4 million Americans that have been unemployed for more than a year.
#4 The number of Americans that have become so discouraged that they have given up searching for work completely now stands at an all-time high.
#5 Gasoline prices in the United States recently hit a 28-month high.
#6 During the 4th quarter of 2010, 4.63 percent of all U.S. home loans were in foreclosure. That matched the all-time high, and it was up significantly from 4.39 percent in the 3rd quarter.
#7 It is estimated that there are about 5 million homeowners in the United States that are at least two months behind on their mortgages, and it is being projected that over a million American families will be booted out of their homes this year alone.
#8 Almost 14 percent of all credit card accounts in the United States are currently 90 days or more delinquent.
#9 The average credit card rate in the United States had increased to a whopping 13.44 percent at the end of 2010.
#10 Americans now owe more than $890 billion on student loans, which is even more than they owe on credit cards.
#11 Average household debt in the United States has now reached a level of 136% of average household income. In China, average household debt is only 17% of average household income.
#12 U.S. life expectancy at birth is now three years less than Canada and four years less than Japan.
#13 New home sales in the state of California were at the lowest level ever recorded in the month of January.
#14 43 percent of all mortgages in south Florida are currently underwater.
#15 Prior to the most recent economic downturn, there were usuallysomewhere around four to five million job openings in America. Today there are about 3 million.
#16 When you adjust wages for inflation, middle class workers in the United States make less money today than they did back in 1971.
#17 One out of every seven Americans is now on food stamps.
#18 One out of every six elderly Americans now lives below the federal poverty line…
…The middle class in America is being ripped to shreds right in front of our eyes and very little is being done to stop it. Desperation is rising across the nation. More Americans slip into poverty every single day. It is almost as if a cloud of gloom and despair has descended upon the U.S. economy and every single month the situation only seems to get darker.