Whether or not Muslim extremists Anjem Choudary, Abu Izzadeen and Sayful Islam will actually be able to pull it off or not remains to be seen. However, the trio are planning to stand on American soil in front of the White House on March 3 and proclaim a "call to arms" in which they will , "call for Sharia law to be established across the U.S.," according to the Daily Mail on Sunday.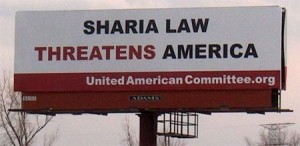 Anjem Choudary is the same extremist who has insisted that the Islamic flag will one day fly over the White House. He also said that he anticipates that thousands will turnout. Whether that is a bunch of psychological warfare or there has truly been some focused organizing going on behind the scenes will eventually become evident.
Meanwhile, the AP has reported that Moammar Gadhafi has declared that if Libya ends up in a civil war, that there will be oil wells in Libya that go up in flames.
To make matters even more interesting, Haaretz reported on Sunday that Iranian warships have made it through the Suez Canal while Al Jazeera reports that Egypt is denying the claim.
If a crowd ends up being drawn to the White House on March 3, it's possible that the U.S. government will be in shut-down mode anyway given the fact that Reuters reported on Sunday that there has been some talk of a government shutdown if lawmakers can't agree on a budget. It was also noted that the government is only funded through March 4. One can't help but wonder if America would have Sharia law thrust upon it if the Republicans were to leave the state like the Democrats did in Wisconsin.
It would seem that Brigitte Gabriel's warning about the attempt of Muslim Extremists to force an Islamic government into power in the United States is beginning to manifest. The Arab Christian is the founder and president of ACT! for America and has written a bestselling book entitled They Must Be Stopped: Why We Must Defeat Radical Islam and How We Can Do It. She told One News Now earlier this month that, "I actually dedicate a chapter to the Muslim Brotherhood's project for North America — not only to what they have done in the Middle East and their goals of bringing back an Islamic government totalitarian regime worldwide, but their plan to the United States as well."
She also stated that, "We not only have the fox watching the hen house; we have the fox inside the hen house right now," she notes. "This is why Obama is being wishy-washy on what's happening in Egypt, because the Obama administration right now is basically taking advice on Middle East policy from the Muslim Brotherhood front organizations in America."
It will certainly be interesting to see just how all the convenient crises brewing in DC will be taken advantage of in the coming days.