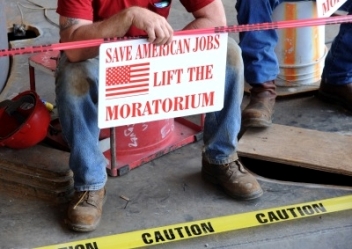 The Obama Administration hasn't had their boot on the neck of just BP but also the entire Gulf economy. Federal Judge Martin Feldman is now doing the same to the Obama Administration.
A few weeks after Feldman held the Interior Department in contempt of court for ignoring his ruling to put an end to the job-killing drilling moratorium, he ordered the Interior Department to get moving on new permits one way or the other. Judge Feldman gave the Administration 30 days to act on five permits, emphasizing that the Administration has been sitting on these permits for four to nine months when Interior routinely processed the permits in two weeks' time. Feldman wrote: "[T]he government is under a duty to act by either granting or denying a permit application within a reasonable time. Not acting at all is not a lawful option."
Part of the problem is merely confusion. CNN Money reports that with respect to some permits, "the government said four of the five applications are not technically before it. They were sent back to the applicant to correct problems, according to the court ruling. The applicant said it was never alerted about problems with its requests." But in any case, the economic effects are real.
If you want proof that the Administration's decisions are inflicting real economic harm, look no further than Houston-based Seahawk Drilling. The small offshore drilling company that conducted most of its operation in shallower waters is seeking bankruptcy and selling its assets because of the significant drop in permits. Seahawk Chief Operating Officer Randy Stilley wasn't shy about criticizing the Administration for dragging its feet on the permitting process: "The decision by regulators to arbitrarily construct unnecessary barriers to obtaining permits they had traditionally authorized has had an adverse impact not only on Seahawk, but on the sector as a whole." In Obamanomics, instead of a job saved or created, does this count as a job wasted or destroyed?
As the only country in the world that places a majority of its territorial waters off limits to oil and gas exploration, at the very least we should be drilling in the areas where we do have access. In fact, one of the important takeaways from chapter 4 of the President's oil spill commission report was that the BP oil spill was not a systemic problem but rather a sequence of missteps that led to the blowout. As my colleague David Kreutzer emphasizes, what took place on April 20 should lead not to a complete revamping of permitting and drilling procedures but instead to a system to enforce good practices. A liability system that properly aligns risk with behavior would only reinforce and strengthen those good practices. And it's time to listen to the judge's orders and start issuing permits.
Source material can be found at this site.