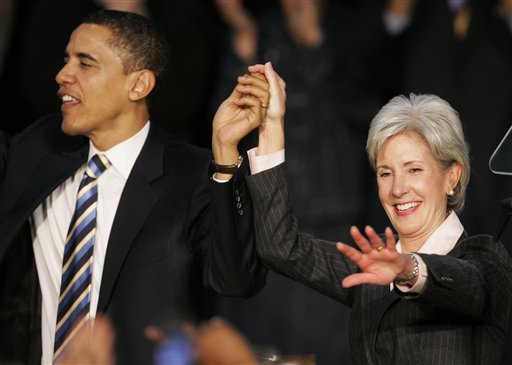 Yesterday, Secretary of Health and Human Services Kathleen Sebelius
testified
before the House Energy and Commerce Committee on the President's fiscal year 2012 budget and implementation of Obamacare. The Secretary's remarks highlighted the need for fiscal responsibility and health care reform that gives greater power to individuals and more flexibility to the states. Unfortunately, none of these goals can be achieved under Obamacare.
Sebelius told the committee, "We can't build lasting prosperity on a mountain of debt. And we can't win the future if we pass on massive debts to our children and grandchildren. We have a responsibility to the American people to live within our means so we can invest in the future."
However, the White House's definition of "investing in the future" simply means cutting spending in one place to increase spending in another. This won't reduce the deficit at all, instead encouraging continued unaffordable levels of federal spending. Secretary Sebelius pointed to $5 billion in reductions within the Department of Health and Human Services budget as contributing to deficit reduction and offsetting new investments. But the savings simply cannot achieve both.
This trend pervades the new health care law. Obamacare makes more than $500 billion in cuts to Medicare, which are used to offset new spending on yet another health care entitlement program rather than increase the solvency of Medicare itself, which is responsible for $30.8 trillion in long-term unfunded obligations. Proponents of Obamacare, including the White House, have claimed that the cuts will both extend the life of Medicare and pay for new programs, but the Medicare Actuary and the Congressional Budget Office have made it clear that both cannot occur. Despite this, when questioned at the hearing about which would occur under the new law, Sebelius replied, "Both," admitting to double-counting savings.
Savings from the CLASS Act—a government-run long-term care program included in Obamacare—are also double-counted. Moreover, CLASS creates the illusion of raising revenue in its initial years, though in fact it contributes to rising deficits in decades to come. Sebelius pledged to ensure that the CLASS program included in Obamacare is sustainable before implementing it, but lawmakers and experts on both sides of the aisle have acknowledged that the program is completely unworkable. The only way forward is to repeal this hugely flawed program, which Sebelius would not commit to.
Regarding health care reform, Sebelius told the committee that the President's budget marks a commitment to "giving Americans more freedom in their health care choices" and puts "Americans in charge of their own health care." This couldn't be further from the truth.
Obamacare gives Washington greater power over every aspect of the health care system. Its strict rules and regulations will limit choice and competition in the insurance market, reducing Americans' choices. Moreover, the law includes none of the consumer-driven reforms that would encourage Americans to take greater control of their health care decisions. And though Sebelius claims that states will have flexibility to implement reform their way, this is also false. States have been charged to carry out the changes made under Obamacare as defined by Washington, with little leeway to take a different approach.
If Sebelius was serious when she said that the federal government should become more fiscally responsible and encourage patients and the states to take control of health care reform, then there's only one way forward: repeal Obamacare.
Source material can be found at this site.