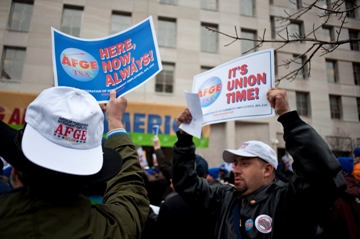 It's no secret that Obamacare is chock full of favors for big labor. One example is the new law's excise tax on "Cadillac" insurance plans, which won't apply to collectively bargained health plans when it goes into effect.
It doesn't end there. Obamacare also created the Early Retirement Reinsurance Program, which subsidizes employer-sponsored health benefits for early retirees and their families. The program will cover 80 percent of health expenses between $15,000 and $90,000, and was intended to encourage employers to maintain coverage for the age group between 55 and 65, who can face difficulties purchasing insurance in the individual market absent an employer-sponsored plan. According to Secretary of Health and Human Services Kathleen Sebelius:
The Early Retiree Reinsurance Program is helping to control health care costs and protect coverage for early retirees and their families … This program is providing critical financial relief to help states, private employers and other organizations preserve access to affordable health coverage for millions of Americans.
But which Americans is it talking about? Workers with access to early retiree health benefits are most likely to be employed by state and local governments and unionized employers. The Kaiser Employee Health Benefits 2010 survey showed that 87 percent of state and local governments and 41 percent of large firms with union workers offer these benefits. Among those firms that do offer retiree health benefits, 93 percent extend them to early retirees.
In contrast, only 21 percent of large firms without union workers offer these benefits. Just 3 percent of small firms offer retiree health benefits.
So it's clear who is benefiting from the ERRP. The program started reimbursing plans soon after the enactment of Obamacare, and in 2010 it paid out $535 million to plans sponsored by approximately 5,500 employers. The majority of spending was on state and local government employees, who represented 47 percent of ERRP sponsors. They received $298 million, or 56 percent of total spending on the program. Non-government union sponsors represented an additional 10 percent of participants.
Government workers already receive significantly more generous benefits than do non-union employees in the private sector. Government workers' benefits are paid for by taxpayers, and as the country has witnessed in Wisconsin, scaling back those benefits to reflect what employees receive in the private sector is beyond difficult. Now Obamacare takes taxes paid by all Americans to subsidize the benefits of those who already earn above-market compensation. This is reverse redistribution of wealth.
As Heritage labor expert James Sherk puts it, "As President, Obama has made it clear that he only objected to particular special interests getting handouts. Obama happily gives some liberal special interests loopholes and exemptions from the laws that affect everyone else."
Source material can be found at this site.