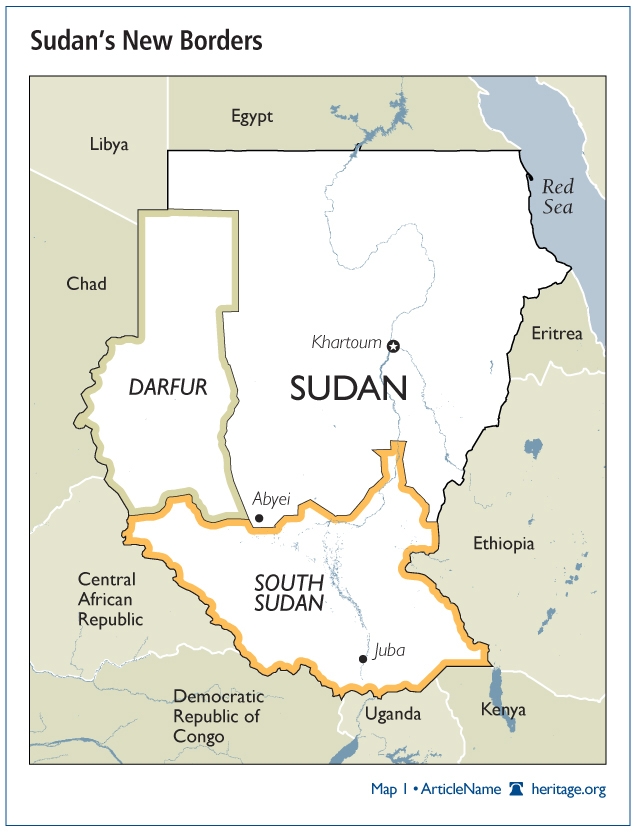 The Obama Administration has pursued an incentive plan for Sudanese President Omar al Bashir to try and secure his cooperation and support for the 2005 Comprehensive Peace Agreement between Sudan and the nascent independent state of Southern Sudan. One of the Obama Administration's preliminary offers was the removal of Sudan from the state sponsors of terrorism list. Aside from rewarding Bashir (accused by the U.S. of genocide in Darfur) for promises of support that may prove ephemeral and are certainly unenforceable, it would also willfully ignore the possibility that Sudan may still be supporting at least one group—the Lord's Resistance Army (LRA)—included on the Terrorist Exclusion List as directed by Section 212(1)(3) of the Immigration and Nationality Act (8 U.S.C. 1182(a)(3)) of the U.S.
As The Heritage Foundation observed earlier this year: "The label 'state sponsor of terror' should not be treated as a political tool. Such a status should be removed only if a country legitimately ends its support to terrorist organizations." So far there is little evidence that Bashir has renounced his support of the LRA as required by the 2005 Comprehensive Peace Agreement (CPA). According to the International Crisis Group, as early as March 2010 the LRA's leader, Joseph Kony, "was in the southern Darfur region of Sudan hoping to receive support from his former benefactor, the Khartoum government." Whether Bashir provided support is uncertain, but Kony's presence in Sudan indicates that he thought such support would be forthcoming.
Lawmakers on Capitol Hill are skeptical of the Administration's offer to remove Sudan from the state sponsors of terrorism list. A press release from Representative Ed Royce (R-CA), co-sponsor of the "Sudan Cessation of Support for the Lord's Resistance Army Certification Act of 2011" (H.R. 895) along with Jim McGovern (D-MA), argues that Congress should instead require:
[T]he Obama Administration to certify to Congress that the Sudanese government is 'no longer engaged in training, harboring, supplying, financing, or supporting in any way the Lord's Resistance Army, its leader Joseph Kony, or his top commanders' before Sudan could be removed from the state sponsor of terrorism list.
Representatives Royce and McGovern have also supported previous bipartisan legislation on ending the LRA's violence across Africa, including the "Lord's Resistance Army Disarmament and Northern Uganda Recovery Act," which was signed into law on May 24, 2010.
The LRA is still a very real threat to stability in Southern Sudan and Darfur (and to other countries in the region), and Bashir has contributed to its brutal acts. Furthermore, the government in Khartoum has a record of manipulating the negotiation process and inhibiting progress. Before granting concessions to those who support terrorism, the Obama Administration should be absolutely certain that President Bashir and his government are working in good faith to accept Southern Sudan's independence, peace in Darfur and an end to LRA terror.
Source material can be found at this site.