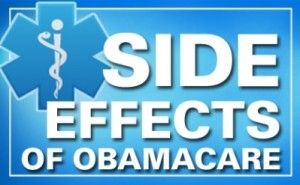 One provision of Obamacare has already spawned a nightmare for doctors, pharmacists, and patients. As of January 1, Americans with health savings accounts (HSAs), flexible savings accounts (FSAs), and health reimbursement accounts (HRAs) can no longer purchase over-the-counter (OTC) drugs using these tax-exempt accounts. After only a couple of months, health care providers are already experiencing the negative consequences of the change.
This provision was included to raise tax revenue to help pay for massive new spending under Obamacare. From its conception, its major flaw is that it creates additional expenses for patients who depend on OTC drugs to manage chronic illness. To smooth out this wrinkle, the new law allowed for the continued use of the savings accounts for OTC drugs with a prescription.
But this condition, which one pediatrician called "an amazingly disruptive policy," has created a bureaucratic mess for doctors, who are already receiving an influx of requests for prescriptions for basic OTC drugs, such as cough medicine. This has led to an increase in avoidable office visits, since, as The Wall Street Journal's Janet Adamy reports, "Doctors are also concerned about malpractice lawsuits, since a prescription potentially puts them on the hook for any problems a patient suffers from over-the-counter drugs." Seeing the patient lowers the risk but unnecessarily adds to the workload of doctors, who are already pressed for time to spend with patients.
Physicians are not the only ones affected. Pharmacies must follow the same regulations for OTC drugs as for all others if patients present prescriptions for them, meaning that additional labeling and packaging must occur.
In the United States, there are about 33 million people who carry FSAs, and according to one survey, about half of them will now ask their doctor for prescriptions for basic OTC drugs to avoid additional new taxes. Another 36 percent will ask their doctor about using a prescription drug in place of an OTC drug. This overwhelming number does not include people who participate in HSAs and HRAs.
The United States is facing a tremendous doctor shortage, which will be made worse by Obamacare. Because of this, health care reform should encourage Americans to seek out health care only when they really need it. Instead, Obamacare creates more work for doctors' offices and pharmacies by incentivizing Americans to seek medical attention when it is not really necessary. This won't just aggravate the effects of the physician shortage but will also increase unnecessary health spending.
Reducing the kinds of products Americans can use FSAs, HSAs, and HRAs to purchase is just one minor change made by Obamacare that will have negative consequences and put enormous new strain on health care providers. The reality is that the law that was supposed to provide easier access to health care does exactly the opposite.
Source material can be found at this site.