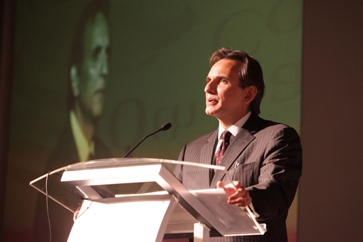 The resignation of U.S. Ambassador to Mexico Carlos Pascual, under pressure from President Felipe Calderon, is bad news for the Obama Administration.
There is little doubt that this is a "blow to U.S.-Mexico relations, in that the personal overcame the institutional." It will damage joint U.S.–Mexico efforts to fight organized crime in Mexico and protect U.S. security at home by turning a common fight against a real enemy into a political contest between national leaders.
Since assuming the key ambassadorship in 2009, Pascual played an active role in efforts to speed delivery of Plan Merida assistance to Mexico, stand up an effective U.S. team in Mexico to support Calderon's law enforcement efforts, and craft a broad-based strategy directed against organized crime. Secretary of State Hillary Clinton went out of her way to praise Pascual for his work.
Calderon's public displeasure began over comments made regarding the Mexican army in cables sent from Pascual's embassy and released on WikiLeaks. Calderon's displeasure became very public in 2011. In an interview with El Universal newspaper in Mexico City in February, Calderon said Pascual demonstrated his "ignorance" of Mexico in cables and was guilty of misrepresenting Mexico's situation. Calderon also reportedly expressed displeasure with the U.S. envoy when he met with President Obama in the Oval Office in early March.
In recent weeks, U.S.–Mexico relations have been under increased strain. The murder and wounding of U.S. law enforcement officials in Mexico in February has opened pressures on the Mexicans to allow U.S. agents to arm themselves for self-protection. Authorized flights of U.S. drones deep in Mexican territory for collecting counter-drug intelligence has provoked debate and backlash in Mexico. Finally, Calderon is unhappy over a program conducted by the Bureau of Alcohol Tobacco and Firearms that allegedly allowed weapons into Mexico from the U.S. in an attempt to roll up arms trafficking networks.
As President Obama heads home from his Latin American trip, he will find that his agenda just became even more complicated, as he must now deal with relations with a prickly Calderon and with resurgent Mexican nationalism.
Source material can be found at this site.