LA Times: Defense Against Baby Killers is "Tit-For-Tat"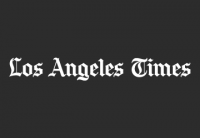 Many of you were outraged at a recent
LA Times editorial
which which contended that the brutal murder of the Fogel family was part of an ongoing "cycle of violence" and that the act of settlement building was the "
provocation that led to them [the murders] in the first place.
"
Now, the LA Times has published a follow-up editorial that shows that it has learned nothing from the numerous emails it received that prompted the follow-up to begin with. Even worse, the paper suddenly seems to have abdicated all responsibility in assigning moral judgment on a brutal murder.
The LA Times now claims that it isn't the paper's role to weigh in on "how much worse it is or isn't to kill civilians on purpose than it is to kill them as collateral damage," adding that this is an issue "for philosophers to wrestle with."
Well, it does not take a philosopher to recognize that killing children in their beds as they sleep is several orders of magnitude worse than announcing new homes in disputed territory. But the closest the LA Times comes to acknowledging the obvious is the claim that "it was certainly not our intention to suggest any such equivalence" [between the Itamar murders and Israel's response] in the original editorial.
But despite claiming to avoid equivalence, the LA Times then goes on to do just that by listing Hamas rockets and Israeli air strikes to prevent such attacks, as part of a "cycle of violence". In fact, the paper gives a long list of actions, starting with Hamas launching rockets at Israeli civilians and ending with a quote from Prime Minister Binyamin Netanyahu warning that Israel will have to respond to the escalation, calling them part of a "tit-for-tat" mentality on both sides.
The term "tit-for-tat", as used in the editorial's headline, is actually worse than "cycle of violence". Taking the dictionary definition, "tit-for-tat" means an equivalent given in retaliation, blow for blow or giving back exactly what one receives.
Apparently, based on this and its previous editorial, the LA Times considers everything to be part of a "cycle of violence", including the Palestinian murder of babies, building within Jewish settlements, firing of Palestinian rockets from Gaza and Israeli countermeasures. And even statements from politicians.
Amidst all this, the paper refuses to cast blame on any Palestinian action for inflaming the violence. It was precisely this, however, that the paper's previous editorial accused Israel of doing by declaring new building in response to the murder of its citizens. Blaming Palestinians the same way it blames Israel, apparently, is left to the philosophers – or to people with any shred of moral judgment.
We were under the impression that the point of editorials was to make a value judgment. How sad and disturbing that a major media outlet misunderstands the conflict in such black and white terms.
A number of letters appeared in the March 19 edition of the LA Times, in response to the original editorial. Congratulations to HonestReporting subscriber Henry Tobias for getting his letter published.
Please continue to send your considered comments to the LA Times – [email protected]. Please remember to include your full name, mailing address, daytime phone number, and e-mail address. This information is seen only by the letters editors and is necessary in order to qualify for potential publication on the letters page.
Source material can be found at this site.