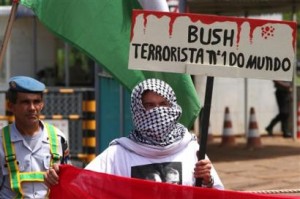 Operatives from Hamas, Hezbollah, and al Qaida are in Brazil planning attacks, raising money and recruiting followers, a leading Brazilian news magazine reported on Saturday.
The report renews prior concerns about the nation serving as a hide-out for Islamic militants.
Veja magazine, in its online edition, reported that at least 20 people affiliated with al Qaida as well as the Lebanese Shi'ite Muslim group Hezbollah, the Palestinian group Hamas and two other organizations have been hiding out in the South American country.
The magazine said these operatives have been raising money and working to incite attacks abroad. The magazine cited Brazilian police and U.S. government reports, but did not give details on specific targets or operations.
The United States has said Islamic militants have been operating in the border region between Brazil, Paraguay and Argentina. Brazil has denied this, while saying it is aware that some members of Brazil's Lebanese community legally transferred funds to the Middle East.
There has been a warming of relations between Brazil and the United States since President Dilma Rousseff took office in January. She has sought closer U.S. ties after her predecessor, Luiz Inacio Lula da Silva, angered the United States with attempts to mediate over Iran's nuclear program.
Veja reported that a Lebanese man named Khaled Hussein Ali, who has lived in Brazil since 1998, is an important member of al Qaida's propaganda operation and has coordinated extremists in 17 countries.
He was briefly arrested in Brazil in March 2009 after a police investigation that found videos and texts directed at al Qaida followers. One email found on his computer and sent as spam to email addresses in the United States incites hatred against Jews and blacks, Veja said.
He spent 21 days in prison on charges of racism, inciting crime and gang formation, but was set free because prosecutors did not pursue the charges in court, Veja said.