Recent state environmental samplings have detected miniscule levels of iodine-131 in Kansas from the Japanese nuclear reactors in Fukushima Dai-ichi. According to the Environmental Protection Agency (EPA), the Nuclear Regulatory Commission (NCR) and other federal agencies, these types of findings are being found all across the country and are far below levels of human health concern, including for infants and children.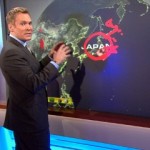 Lt. Governor Jeff Colyer, M.D. stressed there is no anticipated health threat to the U.S. or Kansas.
"We understand the concern Kansans may have. What we are seeing is a miniscule blip on the meter. The consensus remains from international, national and state health experts that this does not pose a health risk to Kansans," said Lt. Gov. Colyer. "Along with the EPA, NRC and other federal agencies, we have been monitoring the situation from the beginning and expected to eventually see some evidence of slightly increased radiation levels in the United States. We will continue to monitor the situation and keep Kansans informed."
The Kansas Department of Health and Environment (KDHE) conducts a wide variety of environmental samplings on a weekly and quarterly basis. They include soil, air, water, vegetation and animal life.
"In Kansas, we remain at no risk for any adverse affects from the current situation," said Dr. Robert Moser, secretary of KDHE. "The miniscule traces of radiation found are equal to what the health and environment regulators in surrounding states are seeing."
According to radiation experts with KDHE and EPA, all of us are exposed to natural radiation on a daily basis. Elevated levels of radioactive material in the U.S. have been expected as a result of the nuclear incident in Japan since radiation is known to travel in the atmosphere.
"While these levels are well below any need for public concern, we are working with county health departments in case Kansans have any questions," said Moser. "We will also continue to monitor our state's environment and report future spikes in these levels if they were to occur."
Kansans are still advised against taking potassium iodide (also called KI) pills in response to the nuclear incident in Japan. Generally, KI is only issued to emergency responders and nuclear power plant workers who must work in close proximity to a radiological release or are likely to receive a higher than normal exposure to radioactive iodine. Consumption of KI can lead to harmful side effects if not taken properly.
KDHE will continue monitoring the environment and will notify the public as pertinent information becomes available.
"The Kansas food supply is safe and secure," said Kansas Secretary of Agriculture Dale Rodman. "We continue to work with our state and federal partners to monitor the safety of our food supply."
Maj. Gen. (KS) Lee Tafanelli, the adjutant general and director of the Kansas Division of Emergency Management, said that KDEM will continue to monitor the situation and coordinate all information with its partner state agencies.
"Our mission is to ensure the safety of Kansans," said Tafanelli. "In this situation, the best way for us to do that is provide the public with accurate information. At this time, there is no cause for concern and that is not expected to change. We are diligently monitoring the situation and will provide updates should anything new develop."
The state of Kansas prepares and conducts exercises for disaster response routinely and recently updated its Kansas Response Plan. It details how state agencies respond to emergencies in the state to assist local governments and coordinate with federal agencies, should federal assistance be needed. The document is available for the public at http://kansastag.ks.gov/AdvHTML_doc_upload/2011%20Final%20Plan.pdf
There is one nuclear plant in Kansas, Wolf Creek Nuclear Generating Station near Burlington in Coffey County. A plant in Nebraska, Cooper Nuclear, is within 50 miles of the Kansas-Nebraska border. The state of Kansas works closely with Wolf Creek and Cooper to ensure that all possible precautions are taken to protect the health and safety of the public.
Wolf Creek was designed to withstand the effects of earthquakes, tornadoes and other disasters. The plant was also designed with multiple safety systems to ensure it can be shut down safely. The state conducts several exercises with Wolf Creek and Coffey County each year to test emergency plans regarding the plant under different disaster scenarios