LOS ANGELES | Police are using a combination of aggressive spy operations and community outreach to counter what Deputy Police Chief Michael P. Downing called the growing threat of Mumbai-style terrorist attacks — car bombings and small-arms-equipped suicide teams.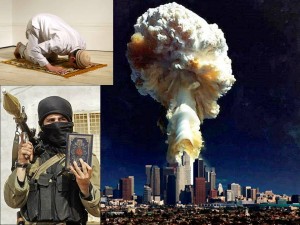 "The biggest fear I have is just what I don't know," Chief Downing, commanding officer of the counterterrorism and special operations bureau, said in an interview, in which he warned that the terrorism threat in the area remains "very real."
"You need good intelligence. Do we have an idea of all the cells here? Do we know all the players? Do we know their associates? Does al Qaeda have good access to [weapons of mass destruction]? And how sophisticated can they get? That worries me," he said.
For the Los Angeles Police Department, the top priority is countering violent, ideological extremism from several Muslim communities in the region made up of diaspora from Yemen, Libya, Egypt, Somalia, Pakistan, Afghanistan, India and elsewhere.
Most of the communities are linked to their home nations and are quick to respond to events there, something the police monitor closely.
Chief Downing identified the main terrorism threats as violent Islamists such as al Qaeda, Hezbollah and Hamas, along with three other terrorist categories: black separatists, white supremacist/sovereign citizen extremists, and animal rights terrorists.
Al Qaeda, he said, has "morphed" into a more ideological threat that motivates spinoffs such as the Yemen-based Al Qaeda in the Arabian Peninsula.
Domestically, "now we kind of have a type of AQ in the United States," Chief Downing said. "It's where we have people who follow al Qaeda's goals and objectives and mission and ideology."
One likely attack scenario is a multitarget, synchronized assault by teams armed with smaller weapons, such as the 2008 terrorist attack on Mumbai that killed 174 people in 10 locations. A Mumbai-type attack is less expensive and would be designed to sow chaos and trigger media coverage, Chief Downing said, noting that a vehicle bomb like the one attempted in Times Square last year also is a risk.
A major threat is an effort by radical Muslims to take over the mosques in a region with the second-largest Muslim population in the U.S., Chief Downing said. He said radical Islamists have offered money to area mosques on the condition of replacing the imam with an extremist and then have threatened mosque leaders when they refused.
In one case, a mosque leader was told "we know where your niece is, how she walks to school in Pakistan, you want her to get to school, don't you?' That's the kind of stuff that we're dealing with here," Chief Downing said.
One active terrorist recruiter is Yemen-based Anwar al-Awlaki, who has lived in San Diego and knows Los Angeles. Al-Awlaki has "a lot of cyberconnections" for his recruitment work in the area, he said.
Los Angeles has one of the few big-city police departments with a dedicated counterterrorism intelligence program.
"We've tried to institutionalize the idea of [counterterrorism] within the department so that people become collectors. People know what the threat is, they understand the threat domain, they know who the adversary is, what the capability is, what the intent is."
Until several years ago, only 30 members of the police department engaged in counterterrorism intelligence work. That number grew to 750 in November after the special operations branch was added to the 300-member unit of officers working the intelligence operations against terrorists.
The department's intelligence branch uses a "hunt-and-pursue" strategy employing analysts who study data collected by police and networks of recruited informants and other surveillance to identify groups or people planning attacks. Police forces then act to disrupt the operations.
Chief Downing said he is active in a public outreach program to Muslim communities designed to counteract what he termed the "motivational aspects" of terrorism.
"We spend an enormous amount of time observing prayer, going to festivals, going to events, showing that we are not just asking for these communities for a buy-in, but we want enrollment, participation," Chief Downing said.
"We spend a lot of time explaining: 'You live in this country, you're free to worship how you like to worship, and we protect the sacred text of the Koran, the sacred text of the Torah, and we protect the sacred text of the Bible. And what we need you to do is partner with us in protecting the sacred text of our country, which is the Constitution which gives you these rights and protects you against bigotry and hatred and all those things,'" he said.
The objective is to win Muslim support for the U.S. system "which means supporting our Constitution and creating a bigger gap between the hard-core radicals and the critical mass of people," he said. "And then we can weed out … the hard-core radicals through our hunt-and-pursue model.
Chief Downing said police also send the clear message to Muslim communities that peaceful protests and activities are welcomed but "be assured that when it turns violent, we're coming after you; we're going to put you in prison."
Chief Downing said he thinks Muslim communities ultimately hold the key to countering violent radical Islamists by holding out the greater promise of the U.S. system and its opportunities against the radicals' idea offering of "a worldwide caliphate with a Muslim-dominated world and the implementation of Shariah law."
"I think you're beginning to see large parts of the community, critical mass of the community saying 'al Qaeda? what do they represent? They kill more Muslims than they do non-Muslims,'" Chief Downing said.
One sign of success is the Muslim community's recent adoption of the LAPD's IWatch tip reporting program that encourages the general public to report to police on potential terrorist attack preparation. The program was embraced after Muslim community leaders first critiqued it and made some suggestions that were accepted by the department, Chief Downing said.
"And I think that's kind of the essence of community policing, in that we're not imposing this on you, we're asking you to participate and make it better," he said.
Chief Downing said LAPD's tactical police operations capabilities include "amazing" forces, including SWAT units, direct-action teams, air support, counterassault teams and squads that specialize in disrupting vehicle bombs.
"We've got some equipment that is pretty incredible," he said. "If a Mumbai-style attack happened here, it would not last 60 hours, I'll tell you that. It would last 30 minutes and they might have them contained in a building."