We already know that Osama bin Laden kept journals and watched television reports about himself while hiding in a compound in Abbottabad, Pakistan before he was killed in U.S. military operation May 1. It turns out he might have been building his porn collection, too.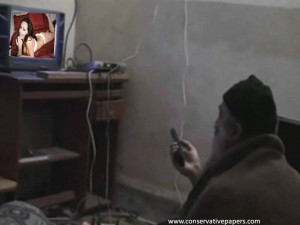 A source confirms to CBS News that pornography was found in the computer files seized from Osama bin Laden's compound. The source says "inappropriate still images" were found–some of which showed couples engaged in sex acts.
The pornography "consists of modern, electronically recorded video," Reuters first reported Friday, citing current and former officials.
Special section: The killing of Osama bin Laden
But the officials who spoke to Reuters said they did not know where in the compound the materials were found. They might not have belonged to — or been viewed by — bin Laden himself.
Earlier Friday, CBS News has learned that CIA officers in Pakistan have met with three widows of Osama bin Laden.
The meeting lasted approximately 30 minutes and Pakistani intelligence officials were present.
Sources tell CBS News the CIA did not get a lot of information from them, but there may be further meetings.
Watch: U.S. releases videos of Osama bin Laden in the compound
Videos demystify OBL image
The eldest of the three widows served as a spokeswoman. Much of the session was reportedly taken up with translation.