(NY Times) The sheer number of foreclosures is bogging down the foreclosure process to the extent that — at the present pace—it may take more than 60 years in some states to complete all the pending cases in some parts of the country.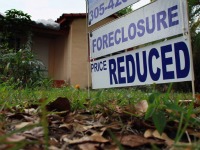 In New York State, it would take lenders 62 years at their current pace, the longest time frame in the nation, to repossess the 213,000 houses now in severe default or foreclosure, according to calculations by LPS Applied Analytics, a prominent real estate data firm, The New York Times reported..
Clearing the pipeline in New Jersey, which like New York handles foreclosures through the courts, would take 49 years, the Times reported. In Florida, Massachusetts and Illinois, it would take a decade, the Times reported.
"If you were in foreclosure four years ago, you were biting your nails, asking yourself, 'When is the sheriff going to show up and put me on the street?'" Herb Blecher, vice president of real estate data firm LPS Applied Analytics told The New York Times.
"Now you're probably not losing any sleep."
That's hardly surprising, given that nationally there are about two million foreclosure cases already in the courts and another two million waiting to get there.
Not only are borrowers sleeping better, but many lenders seem to be in no hurry to add repossessed houses to their books.
After some banks admitted last year to processing foreclosures illegally by filing false court documents, regulators told them to reform their procedures, but things are moving so slowly that the deadline for doing so has been extended.
New foreclosure cases and repossessions are down nationally by about a third since last fall, LPS said. In New York, foreclosure filings are down 85 percent since September, according to the New York State Unified Court System.
The Orange County Register reports that Shaun White, RE/MAX Real Estate's VP of corporate communications, said the foreclosure process — which typically took 400 days in the first quarter of this year, versus 340 days in the first quarter of 2010 and 151 days in 2007 — needs to pick up speed.