The White House has said that unless Congress gives it the green light to lift its $14.3 trillion debt ceiling by Aug. 2, it will default. That would mean lawmakers have about a month to decide whether or not to approve raising the borrowing limit, right?
Wrong.
In reality, they have about nine days when factoring in vacations, recesses and times when the Senate and House aren't in session at the same time, The Christian Science Monitor reports.
While only a few members of Congress are needed to hammer out a deal with the White House, leaders from both parties will need to convince the bulk of Congress to show up and vote on it.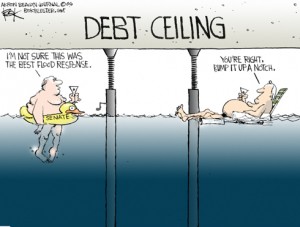 And time spent away from Washington doesn't bode well for lifting the limit.
"There is a benefit to members of Congress not going back to their districts, where activist organizations will be ready to put pressure on them to say 'no' to a deal," says Julian Zelizer, a congressional historian at Princeton University, according to the Monitor.
"There is a virtue in staying in Washington longer. It's strategically better to sit down with another legislator [saying] 'Here's a compromise we can live with,' rather than hearing someone yelling in a room."
Congressional Republicans have said they are willing to lift the debt ceiling but want spending cuts to go with it.
Democrats, meanwhile, are saying they want to close tax loopholes in order to raise government revenue.
"You cannot achieve what you set out to do if you say it's just about cutting. It has to be about increasing the revenue stream as well," says House Minority Leader Nancy Pelosi, D-Calif., according to CNN. A clear hint from Pelosi to hit Americans with higher taxes.