A Prominent Republican is joining a prominent Democrat in predicting that Gov. Cuomo will become President Obama's running mate for vice president next year.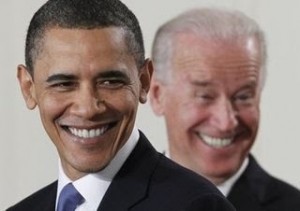 Former New York GOP boss William Powers, credited with playing a key role in electing Rudy Giuliani mayor and George Pataki governor, was effusive in his praise of Cuomo's successes in the just-ended legislative session, and in his prediction of the freshman governor's political future.
"Andrew had a fabulous session. It was fabulous. A property-tax cap, ethics reform and, for Democrats, gay marriage," said Powers.
"I don't think there's any doubt Obama is going to pick him as his running mate. The president is in trouble and [Vice President Joseph] Biden doesn't bring anything to his ticket.
"The president will call him up later this year and say, 'Andrew, you have to do this for the good of the country.' What's Andrew going to say, 'No?' "
Cuomo, who saw a flurry of predictions last week in the wake of the gay-marriage victory that he'll run for president in 2016, has repeatedly refused to discuss the possibility of higher office.
He wouldn't comment either on Powers' prediction, but a source familiar with his thinking half-jokingly said this when asked what action Cuomo would take if Obama called to offer him the nation's No. 2 position: "He won't answer."
Former San Francisco Mayor Willie Brown earlier this year also predicted that Obama would pick Cuomo to replace Biden, who he claimed would be named by the president to replace Secretary of State Hillary Rodham Clinton.
"He's a big name, a big-state governor, and a Democrat who is taking on the issue of public-employee salaries and pensions. Plus, he looks good," Brown said of Cuomo.
Cuomo wouldn't have to resign as governor to run for vice president, although many voters would likely react negatively since he could be leaving office just two years into his four-year term.
The Cuomo administration is charging The New York Times with using its news pages to crusade against natural-gas drilling in the impoverished Southern Tier section upstate.
"To get the story so blatantly wrong by posting a misleading headline on the Times' home page is a disservice to your readers," Department of Environmental Conservation Commissioner Joseph Martens wrote to the paper Friday in reference to a Times "exclusive" that Cuomo had supposedly given a go-ahead to use the controversial hydrofracturing technique for gas drilling.
"The Times has a responsibility to present accurate and balanced coverage of such a controversial matter, and it failed miserably in this case," Martens, a Cuomo appointee, continued.
"The article, 'Cuomo Moving to End a Freeze on Gas Drilling,' failed to present an even and objective story. The single environmental viewpoint was that of the Environmental Advocates of NY when several other environmental groups — the National Resources Defense Council, the Adirondack Mountain Club, and the NY League of Conservation Voters — all released statements supportive of DEC's proposal," Marten said in a letter, a copy of which was obtained by The Post.