South African Watchdog Declares Israel an Apartheid State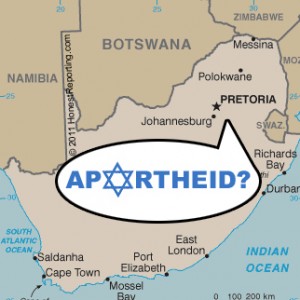 The accusation that Israel is an "apartheid state" is a deliberate misuse of language as part of a larger strategy to erode the Israeli state's legitimacy and deserves to be confronted. This is particularly true when it occurs in South Africa where the term "apartheid" carries extra emotional and historical weight.
Public opinion will turn sharply against Israel if people believe that it is an apartheid state, just as it did for the real apartheid regime in South Africa. The use of the term is a blatant assault on Israel's legitimacy by the boycott, divestment and sanctions (BDS) movement by linking Israel to the reviled South African regime.
So the South African Jewish Board of Deputies was absolutely right to make a complaint to South Africa's Advertising Standards Authority concerning a radio commercial featuring the voice of Dave Randall, lead singer of the UK rock group Faithless:
Hi, I'm Dave Randall from Faithless. Twenty years ago I would not have played in apartheid South Africa; today I refuse to play in Israel. Be on the right side of history. Don't entertain apartheid. Join the international boycott of Israel. I support southafricanartistsagainstapartheid.com.
According to the ASA's ruling, the complainants took issue with the implied claim that Israel is an apartheid state, a factually incorrect and irresponsible comparison, and that the commercial contained a lie amounting to false propaganda. Furthermore, the call to boycott Israel is racist and hateful.
The ASA, however, ruled against the complainants. While some of the ruling was based upon technicalities, the ASA went further in order to justify its decision:
There have been numerous international missions that have observed the situation in Israel and the Occupied Palestinian Territories and have concluded that Israel is in contravention of International Law and is an apartheid state.
It further submitted reports by a UN Special Rapporteur on the Occupied Palestinian Territories as well as a copy of the International Court of Justice concerning the wall in Jerusalem. Further to this it submitted copious academic studies, newspaper articles and cartoons concerning Israel. Affidavits from Professor Uri Davis and former Minister Ronnie Kasrils were also attached.
The expression of the view that Israel is an apartheid state in contravention of international law is based on a sound factual matrix and the connection between apartheid South Africa and Israel has been made numerous times in the South African media. The claim is therefore justified and arguably capable of substantiation through this range of documentary sources.
So who are the ASA's expert sources?
Could it be the same UN Special Rapporteur Richard Falk who only in the last few days posted an anti-Semitic cartoon (see below) on his blog before removing it after being exposed by UN Watch?
The International Court of Justice ruling on Israel's security barrier never referred to it as an "apartheid wall". This terminology was adopted by those seeking to delegitimize Israel. So why then, did the ASA also make this false linkage?
Aside from taking a lead from the media itself, did the ASA rely upon South African cartoonists such as Jonathan Shapiro a.k.a. Zapiro, whose crude anti-Israel cartoons have featured regularly on HonestReporting over the years, earning him a 2007 Dishonest Reporter Award?
What about Professor Uri Davis, an anti-Zionist so dedicated to attacking Israel that he is actually an elected member of Fatah's governing council?
And as for Ronnie Kasrils, his prominent political position has given him a platform to air his extremist views that Israel has no right to exist and his hatred of the Jewish state. Sadly, it appears that he was also able to influence the ASA.
The ASA's conclusion, not only that there is no case to answer for linking apartheid to Israel, but that Israel is actually an apartheid state, is nothing short of disgusting. That this has happened in South Africa, the victim of genuine apartheid is equally disturbing and demonstrates the extent to which this false comparison has become treated as mainstream opinion.
See our Hot Topics for more on the Apartheid State Libel and how to address this slur.
You can send your considered comments to the South African Advertising Standards Agency – [email protected]
Source material can be found at this site.