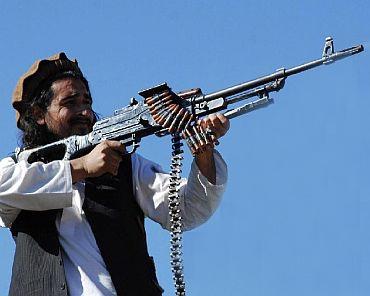 Turkish authorities
arrested 15
suspected al-Qaeda militants this week and foiled a plot to bomb the U.S. embassy in Ankara shortly before Secretary of State Hillary Clinton was scheduled to arrive in Turkey for a diplomatic conference regarding Libya. This should serve as a reminder that al-Qaeda has survived the loss of its founder, Osama bin Laden, in May and still poses a threat to Americans and American national interests.
Al-Qaeda long has operated within Turkey. Last month, Turkish police arrested 10 al-Qaeda suspects in the city of Adana, near the Incirlik air base, which is used by U.S. cargo planes to transport non-lethal supplies to troops in Afghanistan and Iraq. In 2008, three al-Qaeda militants died in an attack outside the U.S. consulate in Istanbul, which also killed three Turkish police officers. In 2003, al-Qaeda terrorists killed 58 people in coordinated bombings on the British consulate, a British bank, and two synagogues in Istanbul.
The Wall Street Journal has reported that documents found inside bin Laden's hideout in Pakistan indicated that he was plotting an attack on the United States slated for the 10th anniversary of the 9/11 attacks in September. Clearly, al-Qaeda remains determined to murder as many Americans as it possibly can.
Bin Laden's death was a major setback for al-Qaeda, depriving the terrorist network of its charismatic founder, inspirational motivator, chief recruiter, and commander in chief. But al-Qaeda has proven itself to be a resilient and adaptive entity that is sure to pose a continually evolving threat to the United States and its allies.
This is unlikely to change under the leadership of Ayman al-Zawahiri, the Egyptian militant who was named bin Laden's successor last month. Zawahiri may lead al-Qaeda to focus more intensively on his native Egypt, which now is embroiled in an uncertain and unpredictable political transition. But Zawahiri will also remain implacably committed to attacking the "far enemy"—the United States.
Washington cannot afford to grow complacent about the threat posed by al-Qaeda post–bin Laden. It must finish the job of stabilizing governments in Afghanistan and Iraq that will be allies in the war against al-Qaeda. It must remain vigilantly engaged in Yemen, Somalia, and other countries where al-Qaeda seeks to expand its baleful influence. It should accord the highest priority to targeting al-Qaeda's leaders, reducing its access to funds and recruits, discrediting its violent ideology and isolating it from possible allies. And it must prudently take homeland security precautions to prevent, deter, and defend against possible future terrorist attacks.
This week's news from Turkey and Pakistan demonstrates that the Long War is far from over.
Source material can be found at this site.