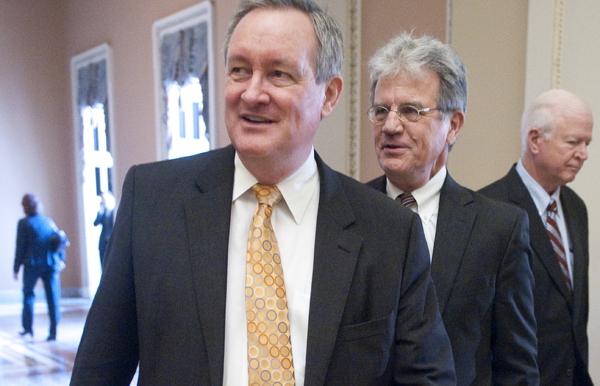 The recently rekindled Gang of Six presented its $3.7 trillion deficit-reduction plan to Senate colleagues yesterday. As the debt-limit deadline approaches, the six senators are hoping to gain support. "We told our colleagues this morning that we want to hear from them in the next 24 hours," Sen. Kent Conrad (D-ND) said. "Are they with us or not?" After reading what Heritage's David Addington had to say about the plan, hopefully the answer is "no." (Pictured are Republican Sens. Mike Crapo, Tom Coburn and Saxby Chambliss.)
At the White House, meanwhile, First Lady Michelle Obama is expected to make a "major announcement" at 2:15 p.m. ET today regarding access to healthy, affordable food. Expect more lecturing on her Let's Move! initiative.
The so-called "mysterious" group TheTeaParty.net is holding a Presidential Twitter Debate this afternoon. The group has more than 300,000 members and is one the nation's largest Tea Party organizations. Confirmed candidates include Rep. Michele Bachmann, former Speaker Newt Gingrich and former Sen. Rick Santorum. The debate is scheduled to run from 3 p.m. to 4:30 p.m. ET. Twitter updates can be found on www.twitter.com/theteaparty_net and people can join in the debate by using @140townhall.
Source material can be found at this site.