[First published August 22, 2005] What is socialism? It is a politico-economic philosophy that believes government must direct all major economic decisions by command, and thus all the means of production for the greater good, however defined.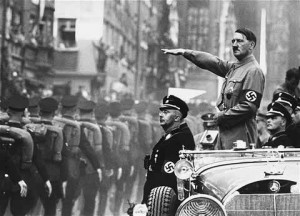 There are three major divisions of socialism, all antagonistic to each other. One is democratic socialism, that places the emphasis on democratic means, but then government is a tool for improving welfare and equality. A second division is Marxist-Leninism, which based on a "scientific theory" of dialectical materialism, sees the necessity of a dictatorship ("of the proletariat") to create a classless society and universal equality. Then, there is the third division, or state socialism. This is a non-Marxist or anti-Marxist dictatorship that aims at near absolute economic control for the purpose of economic development and national power, all construed to benefit the people.
Mussolini's fascism was a state socialism that was explicitly anti-Marx and aggressively nationalistic. Hitler's National Socialism was state socialism at its worse. It not only shared the socialism of fascism, but was explicitly racist. In this it differs from the state socialism of Burma today, and that of some African and Arab dictatorships.
Two prevailing historical myths that the left has propagated successfully is that Hitler was a far right wing conservative and was democratically elected in 1933 (a blow at bourgeois democracy and conservatives). Actually, he was defeated twice in the national elections (he became chancellor in a smoke-filled-room appointment by those German politicians who thought they could control him — see "What? Hitler Was Not Elected?") and as head of the National Socialist German Workers' Party, he considered himself a socialist, and was one by the evidence of his writings and the his economic policies.
To be clear, National Socialism differs from Marxism in its nationalism, emphasis on folk history and culture, idolization of the leader, and its racism. But the Nazi and Marxist-Leninists shared a faith in government, an absolute ruler, totalitarian control over all significant economic and social matters for the good of the working man, concentration camps, and genocide/democide as an effective government policy (only in his last years did Stalin plan for his own Holocaust of the Jews).
I've read Hitler's Mein Kampf (all online here) and can quote the following from Volume 2:
Chapter VII:
In 1919-20 and also in 1921 I attended some of the bourgeois [capitalist] meetings. Invariably I had the same feeling towards these as towards the compulsory dose of castor oil in my boyhood days. . . . And so it is not surprising that the sane and unspoiled masses shun these 'bourgeois mass meetings' as the devil shuns holy water.
Chapter 4:
The folkish philosophy is fundamentally distinguished from the Marxist by reason of the fact that the former recognizes the significance of race and therefore also personal worth and has made these the pillars of its structure. These are the most important factors of its view of life. ?
If the National Socialist Movement should fail to understand the fundamental importance of this essential principle, if it should merely varnish the external appearance of the present State and adopt the majority principle, it would really do nothing more than compete with Marxism on its own ground. For that reason it would not have the right to call itself a philosophy of life. If the social programme of the movement consisted in eliminating personality and putting the multitude in its place, then National Socialism would be corrupted with the poison of Marxism, just as our national-bourgeois parties are.
Chapter XII:
The National Socialist Movement, which aims at establishing the National Socialist People's State, must always bear steadfastly in mind the principle that every future institution under that State must be rooted in the movement itself.
Some other quotes:

Hitler, spoken to Otto Strasser, Berlin, May 21, 1930:
I am a Socialist, and a very different kind of Socialist from your rich friend, Count Reventlow. . . . What you understand by Socialism is nothing more than Marxism.
On this, see Alan Bullock, Hitler: a Study in Tyranny, pp.156-7; and Graham L. Strachan "MANUFACTURED REALITY: THE 'THIRD WAY'"
Gregor Strasser, National Socialist theologian, said:
We National Socialists are enemies, deadly enemies, of the present capitalist system with its exploitation of the economically weak … and we are resolved under all circumstances to destroy this system.
F.A. Hayek in his Road to Serfdom (p. 168) said:
The connection between socialism and nationalism in Germany was close from the beginning. It is significant that the most important ancestors of National Socialism—Fichte, Rodbertus, and Lassalle—are at the same time acknowledged fathers of socialism. …. From 1914 onward there arose from the ranks of Marxist socialism one teacher after another who led, not the conservatives and reactionaries, but the hard-working laborer and idealist youth into the National Socialist fold. It was only thereafter that the tide of nationalist socialism attained major importance and rapidly grew into the Hitlerian doctrine.
See also his chapter 12: "The Socialist Roots of Naziism."
Von Mises in his Human Action (p. 171) said:
There are two patterns for the realization of socialism. The first pattern (we may call it the Lenin or Russian pattern) . . . . the second pattern (we may call it the Hindenburg or German Pattern) nominally and seemingly preserves private ownership of the means of production and keeps the appearance of ordinary markets, prices, wages, and interest rates. There are, however, no longer entrepreneurs, but only shop managers … bound to obey unconditionally the orders issued by government. This is precisely how Hitler governed when he achieved dictatorial power.
Referring to John J. Ray's piece ("Hitler Was A Socialist", and I was asked who he is. He has a Ph.D. in psychology, but taught sociology for many years. His fulsome bio is here. His article on Hitler is excellent and well researched. He has a blog on "dissecting leftism."