by Daniel Pipes
July 20, 2011
updated Aug 6, 2011
This weblog entry is dedicated to the oil rich who find creative new ways to burn through excess funds, listed in reverse chronological order.
---
Spell your name out on sand in kilometer-high letters: A member of Abu Dhabi's ruling family, Hamad Bin Hamdan Al Nahyan, 63, has a taste for the large and ostentatious, including 200 luxury cars at his disposal. He has gone where no one has before by having his name carved in Roman letters in an island he owns, with the letters 2/3s of a mile high and two miles long. (For more details and more pictures, see the Atlantic Wire.) (July 20, 2011)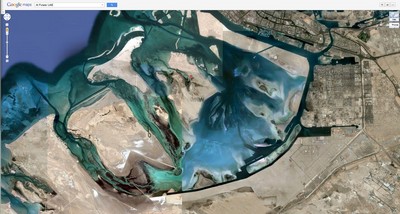 Google Maps shows "HAMAD" clearly.
Source material can be found at this site.