Over the past six months, Wisconsin has been nothing short of a miracle. Newly elected Governor Scott Walker and the Republicans in the majority in Madison got just about everything they wanted during the past legislative session, and a state facing a projected $3 billion budget shortfall with no end in sight now has a projected $300 million budget surplus!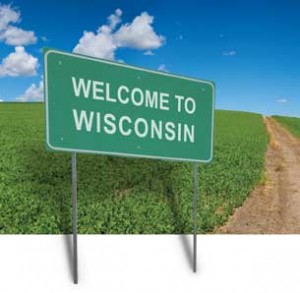 The amazing successes in Wisconsin have emboldened the legislatures and political leaders of other states, who have seen the wonders resulting from a little political backbone and fiscal common sense.
After being held hostage by 14 AWOL Democrat senators, Walker succeeded in passing his budget repair bill, "Act 10," which instantly fixed the $137 million deficit by requiring public employees to contribute just a little bit toward their pensions and health care, and by limiting their ability to collectively bargain. Wisconsin also ended the ludicrous automatic pay and benefit increases for public employee unions each budget year — closing a cash sinkhole which is eating states like California and Illinois alive. Last month the Wisconsin legislature passed its biennial budget, which Governor Walker promptly signed in a no-frills ceremony.
The repeal of much of Wisconsin's collective bargaining law has already improved the quality and lowered the cost of Wisconsin government exponentially. There are approximately 275,000 government employees in the state of Wisconsin. About 72,000 such employees work for the state, 38,000 for cities and villages, 48,000 for counties, 10,500 (full time equivalent) for technical colleges, and 105,229 for schools.
While only half of state employees are unionized, virtually all school district employees are unionized. Until recently, almost all conditions of unionized public employee employment had to be delineated in a collectively bargained agreement. Consequently, it was very difficult to remove bad teachers and to reward good teachers. It took an Act of Congress to remove even the worst teachers, and doing so could cost a community millions in attorney fees. A high school teacher in Cedarburg was fired for viewing porn at school while working on his school district computer, in violation of the high school's computer use policy which strictly prohibited "accessing, sending or displaying offensive messages, pictures or child pornography." (Among other images, Robert Zellner had retained photographs of female students of the district wearing bikinis while on a school-sponsored trip to Hawaii that Zellner chaperoned.) Zellner was a union activist, so the teachers' union dug in and resisted the personnel change, filing suit in federal court and taking the matter all the way to the U.S. 7th Circuit Court of Appeals. The union eventually lost, but in its nearly three-year effort to keep fired teacher Robert Zellner from returning to Cedarburg High School, the school district spent roughly $267,000 on legal expenses — enough to pay the annual salary and pre-Walker benefits of four teachers.
It has been well-reported that under collective bargaining, districts have been stuck with the teacher union health insurance company — like the Wisconsin Education Association Council (WEAC) in Wisconsin — which can cost $3,000-plus per teacher more over a plan that is virtually identical to that which another company is willing to provide. In Wisconsin, WEAC had grossly abused that privilege for decades, resulting in the unnecessary siphoning of millions of dollars from Wisconsin public schools. Taxpayers were the big losers.
Under collective bargaining, any changes in the teaching schedule are not determined by the employer, but rather must be agreed to by the employees — the teachers' union. If a school district wants to change their schedule to match private schools and save money on bussing costs, the union must first sign off. Seventy-page contracts may also require that a teacher is entitled to 13 paid personal days — this for employees who may only be required to work 190 days a year in the first place.
The cost savings to Wisconsin school districts are already producing miraculous stories of fiscal recovery and educational improvement. In New Berlin, the school district went from a $3 million deficit to balancing its budget, and actually lowered school property tax by one percent. New Berlin's director of financial services, Roger Dickson, says that the changes to collective bargaining gave schools the "tools" to plug most of the $3 million hole.
In Kaukauna, Act 10 has allowed the school district to hire additional teachers, and to reduce projected class sizes: 26 students to 23 students at the elementary level, 28 students to 26 students at the intermediate/middle level, and 31 students to 25 students at the high school level. In addition, time is now available for staff to identify and support students needing individual assistance through individual and small group exercises. Act 10 has allowed the district's projected operating budget to improve from a $400,000 deficit to approximately $1,500,000 in the black. Earmarked in the operating budget are $300,000 related to merit pay, a program being explored for all staff for the 2011-2012 school year. To top it off, Kaukauna is planning to hire more teachers.
Collective bargaining is harmful to schools and students, costs an exorbitant amount of money, and lowers the quality of education. Even some of the most liberal organizations who otherwise support collective bargaining agree that it hurts not only teachers, but students, and our education system as a whole.
If one listened to the violent rhetoric of the public employee unions, one would have expected today to be a dark day for education in Wisconsin. "This is a disaster," said Wisconsin Senate Democratic leader Mark Miller in February after Governor Scott Walker first proposed Act 10. Miller predicted catastrophe if the bill were to become law, a charge repeated thousands of times by his fellow Democrats, union officials, and protesters in the streets. Now the bill is law, and we have evidence of how wonderfully it is working. Instead of a catastrophe, it is a day of miraculous optimism, balanced budgets, educational improvement, and fiscal recovery.
There is a lot of speculation as to what the fallout will be in the wake of these conservative successes. Wisconsin residents witnessing the miracle may well vote to keep the state solidly conservative. And with other states witnessing the miracle in Wisconsin, states across the country could begin a reformation which will not only tilt the political momentum in other states to the right, but perhaps even serve as the template for Congress and become instrumental in saving a nation on the brink of insolvency.