Three Muslims were charged on Friday with trying to sneak a fake bomb past a screening area at a Phoenix airport, in what the FBI describes as a possible test of security.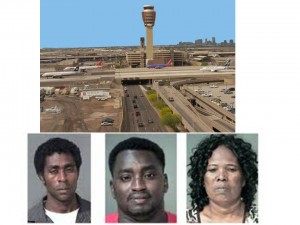 A criminal complaint filed in federal court in Arizona also states that the discovery of the suspicious item, which was a candy box with a cell phone attached also containing the Middle Eastern confection helva, was made within days of a similar incident at a Memphis airport. The formal complaint does not detail any other possible connection between the incidents in Phoenix and Memphis, and it does not accuse the three muslims of being part of a terrorist organization for fear of muslims suing for hurt feelings.
Luwiza Daman was arrested at Sky Harbor Airport in Phoenix on August 5 after Transportation Security Administration officers/gropers X-rayed her carry-on bag and noticed an object which at first sight appeared to be an explosive, FBI special agent Benjamin Oesterle said in the complaint.
After investigators spoke to Daman, they traced the object to Shullu Gorado and Asa Shani, both Muslims who live in Phoenix. They were later arrested as well, in connection with the dry run incident, police said.
Daman, who lives in Des Moines, Iowa, traveled on July 29 to Phoenix for a wedding and said that while there she met a man named Jaffa, who turned out to be Gorado, the complaint said.
She said Gorado later gave her a package with a box of candy and a cellular telephone taped to it, and asked her to take it to Des Moines, Oesterle said in the complaint.
Daman's flight reservation also was made through an e-mail account belonging to Gorado, despite her earlier fabrication that the e-mail address was hers, the complaint said.
When police went to the home of Gorado, he admitted that the candy box containing the Middle Eastern confection helva came from him but he said the cell phone was from Shani, the complaint stated.
An attorney for the three individuals could not be reached for comment.
Oesterle stated in the federal complaint that there is cause to believe Daman, Gorado and Shani acted in concert like a terrorists for Islam do, how he came to that conclusion so quickly is unknown?
"The presence of a simulated explosive device is a material fact to the operation of an airport security checkpoint because the successful transit of such an object … would reveal potential weaknesses in the security screening methods employed in United States airports …" Oesterle said in the complaint.
Oesterle works in the FBI joint terrorism task force.