President Barack Obama's recently unveiled $447 billion job-creating bill is "a complete joke" and won't work because the economy needs less spending not more, says Marc Faber, editor of the Gloom, Boom and Doom report.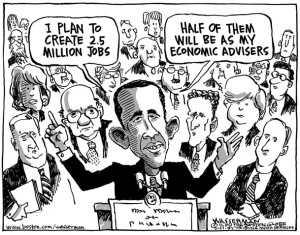 The package is "another complete failure of Keynesian economics and corrupt interventions," Faber tells CNBC.com.
"This all amid talk of deficit reductions," Faber says, adding the package is a "complete joke."
The package, a mix of tax cuts and other measures designed to spur infrastructure and other investments, aims to boost employment and ultimately, demand, a key ingredient missing for more sustained recovery.
"It will provide a jolt to an economy that has stalled, and give companies confidence that if they invest and hire, there will be customers for their products and services," Obama told a joint session of Congress, according to ABC News.
Obama needs unemployment rates to fall and the economy to improve going into an election year.
An ABC News-Washington Post poll shows that 43 percent of Americans approve of the job Obama is doing as president, while 53 percent disapprove.
However, 62 percent of Americans say they disapprove of Obama's handling of the economy, including 47 percent who do so "strongly," the poll shows.
House Speaker and Republican Congressman John Boehner says his party is willing to discuss the plan with the president.
"It's my hope that we can work together to end the uncertainty facing families and small businesses, and create a better environment for long-term economic growth and private-sector job creation," Boehner says in a statement, ABC News adds.