Intolerance: One of the most tragic results of our Middle East policy is that, along with all the money and lives squandered, we seem to be abetting the Muslim world in its efforts to kill off Christianity.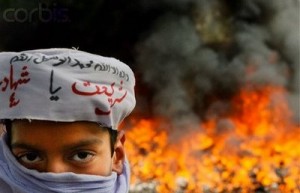 A major religion representing nearly a third of the world's 6.8 billion people is under harsh and constant attack. No, it's not Islam, which by law gets privileged but largely unneeded legal protection in both Europe and North America. It's Christianity, under siege as never before in many countries, but especially across the Mideast and South Asia.
Take Afghanistan, where — as noted Tuesday in a CNSNews.com report citing the U.S. State Department — "there is not a single, public Christian church left."
The last church in Afghanistan — where 1,700 U.S. troops have died since 2001 to keep the terrorist Taliban from taking over — was destroyed in March 2010.
Nor are any Christian schools left, part of a systematic campaign to de-Christianize the country.
In Egypt, meanwhile, since the Arab Spring began earlier this year, fundamentalist Muslims have slaughtered Christians by the hundreds. As the Associated Press put it, President Hosni Mubarak's ouster meant radical Muslims "enjoyed more freedom than ever before to go after their No. 1 target — Christians."
Freedom is a wonderful thing, but in this case it meant the cold-blooded murder of 26 Christians last weekend — an ongoing effort to eradicate the last vestiges of a religion that has existed in Egypt since the time of Christ.
Once, believe it or not, more than half of Egypt's population was Christian. Today, just 10% is. But we must remember, as Muslim rights groups keep telling us: Islam means peace.
The recent surge in violence is the rotten fruit of an Arab Spring that seems to be falling to the ground. Whether in Syria, Lebanon, Iraq, Afghanistan, Pakistan or elsewhere in the Mideast, it's the same story: Christians can't worship openly or participate in civil society.
As this is going on, the United Nations — obsessed with acting on its members' irrational hatred of Israel — says and does nothing. It's too busy appeasing dictators and enabling Islamic extremists.
Tax dollars in support of all this keep flowing. Afghanistan received nearly $9 billion in U.S. aid last year; Egypt raked in nearly $2 billion. These are supposed to be investments in peace. But for endangered Christians, peace isn't just elusive — it's nonexistent.