MEXICO CITY – Eleven Mexican trucking companies hope to join a pilot program that could see more than 150,000 vehicles delivering products to destinations deep inside the United States by year's end, the vice president of the Canacar transport association said.
Eight of the 11 firms have already submitted applications and are awaiting a response from the U.S. Transportation Department, Luis Moreno said.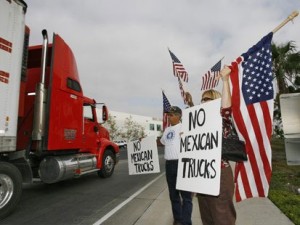 It was only last Friday that a Mexican long-haul truck became the first to deliver a shipment to the U.S. interior under the revived pilot program.
Nearly two decades after the North American Free Trade Agreement linking the United States, Mexico and Canada came into force in 1994, a Mexican trucking company began shipping cargo beyond a buffer zone near the border.
"There are eight or nine companies enrolled (in the program), more don't yet have permission from the United States to enter," Moreno told reporters.
Each firm accepted into the pilot program must undergo an 18-month probationary period to become eligible for a permanent U.S. operating license, he said.
By the end of 2011, Moreno expects that some 150,000 Mexican trucks will be authorized to travel beyond the narrow border strip.
Around 70 percent of the $400 billion in goods that pass between Mexico and the United States every year are transported by truck.
Before the renewal of the pilot program, Mexican trucks were not allowed beyond a 25-mile buffer zone where their cargo was typically transferred to U.S. tractor trailers, a process criticized as inefficient and expensive.
Many objections to this deal have been raised. Several states have voiced their opposition to it. Lawsuits and opposition by labor and safety groups have been filed in hopes of stalling the Mexican trucks.
Why the opposition to Mexican trucks? There are many reasons. Safety is at the top of the list. There is no guarantee that these Mexican trucks will undergo any type of safety checks. Keep in mind that U.S. drivers and their trucks are held to strict rules and regulations. This administration seems to want to allow the trucks to come in without checking trucks for safety or load content.
Rules on knowing, understanding and speaking English may well be on the back burner too. One has to wonder how a driver with no English skills will be able to read highway signs, town/city signs, etc. And for many, this would seem to be an impossible trick to navigate a foreign country, hauling goods, without a way to communicate.
Its estimated these new rules will result in 175,000 current U.S truck drivers losing their jobs, adding more bad new to an already bad economic climate. Soon U.S trucking companies will domicile into Mexico to reduce costs of operating in the U.S, the resulting loss of even more U.S jobs and a decrease in safety, and for what? So corporations can cut its distributi­on costs even more, while directly affecting the middle class?