Yesterday, the United States hit an unsavory milestone–$15 trillion in gross debt. Unfortunately, the number shouldn't have come as a surprise. America's debt has been growing at a rapid clip, and as the chart below shows, it's set to skyrocket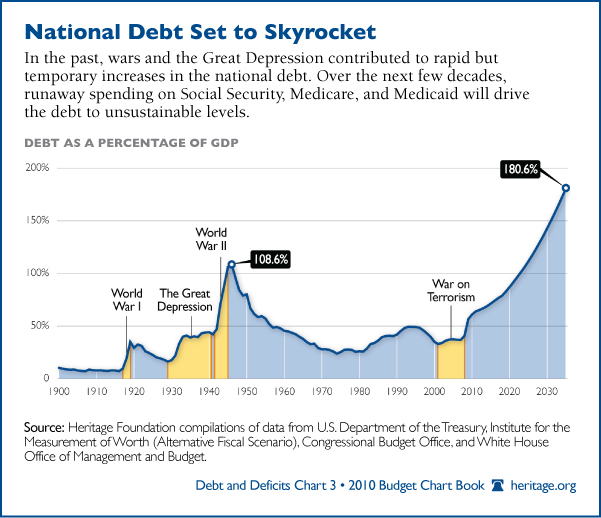 How bad is America's spending problem? Heritage's Alison Fraser, Patrick Knudsen and Mackenzie Eaglen put it into context:
At $1.3 trillion, the deficit for fiscal year (FY) 2011 was the third consecutive year of deficits exceeding $1 trillion. These deficits are larger than the largest deficit during World War II when adjusted for inflation. Even under President Obama's February budget, which includes many unrealistic assumptions and budget gimmicks, the deficit would never fall below about $750 billion. From there, the President's proposed deficits would rise back into the trillion-dollar range by the end of the decade.

These unprecedented and chronic deficits are driving government debt to unsustainable levels. The President's budget would increase debt held by the public to nearly 90 percent of gross domestic product (GDP) by 2021. That, too, is a post–World War II record.
That spending — and the $15 trillion number — has particular relevance headed into next week when the congressional "super committee" faces its deadline for finding $1.5 trillion in budget savings by Thanksgiving. America has worked itself into a fiscal nightmare, and now Congress is tasked with finding ways to pare that spending back, or else face draconian cuts to the U.S. military.
Some are calling for tax increases as a way to solve this problem, but inadequate revenue isn't the issue — too much spending is. And The Heritage Foundation has set forth three pillars of reform for the super committee, including fully funding national defense, transforming entitlement programs, and not raising taxes. Heritage has also provided a detailed plan by which the super committee could accomplish that goal.
Read more in Three Pillars of Reform for the Super Committee at Heritage.org.
Source material can be found at this site.