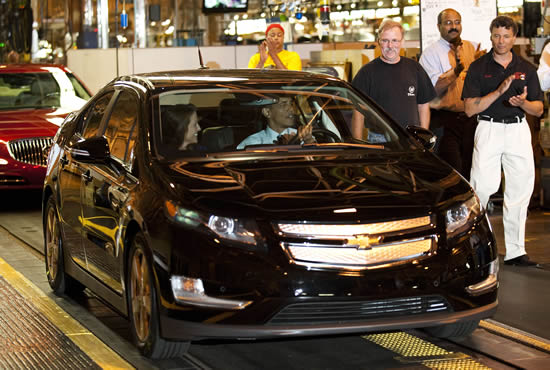 It's been a mixed day in the world of the American auto industry. While Ford Motor posted huge sales for November — propelled by a strong demand for SUVs — General Motors has been forced to make the unusual offer of buying back cars from consumers.
Tom Krisher at the Associated Press reports that GM is taking action in response to news that its highly touted electric Chevy Volts have been found to catch fire:
In an exclusive interview with The Associated Press, CEO Dan Akerson insisted that the cars are safe, but said the company will purchase the Volts because it wants to keep customers happy. Three fires have broken out in Volts after side-impact crash tests done by the federal government.

Akerson said that if necessary, GM will recall the more than 6,000 Volts now on the road in the U.S. and repair them once the company and federal safety regulators figure out what caused the fires.

"If we find that is the solution, we will retrofit every one of them," Akerson said. "We'll make it right."
The big problems with the Volt could spell trouble for electric cars as a whole. Jordan Weissmann at The Atlantic explains:
It's an unpleasant story for GM. But it's also bad news for the rest of the electric car movement. The Volt is no ordinary sedan. It's a standard bearer. When GM was seeking a bailout from Congress, it trotted out the plug-in hybrid electric Volt as proof that the company was changing its truck-obsessed ways. Since then, executives have taken to calling it GM's "moonshot." Fewer than 6,000 have been sold. But the company already has plans to use the Volt's engineering on other models, such as a new Cadillac.
The Volt has been something of a linchpin in the Obama Administration's "alternative energy" drive. In the President's stimulus bill, a hefty $7,500 tax subsidy was offered to Volt buyers, bringing down the cost of the $41,000 vehicle, all at taxpayers' expense. And the same federal government that bailed out GM and became a part owner also became a customer, buying 116 Volts for its government fleet. The President's Secretary of Energy, Steven Chu, spelled out the vehicle's importance to the Administration's agenda:
Diversifying our transportation fleet with hybrids, electric vehicles and other alternative-fuel vehicles is a critical element in President Obama's long-term plan to break our dependence on foreign oil and invest in America's growing clean energy economy.
The trouble is, American consumers don't seem to be turned on by the notion of hybrid and electric vehicles. Ford's strong vehicle sales in November were propelled by a 43.1 percent increase in sales of Ford-brand SUVs, as well as increased sales of midsize and fullsize cars. Among the weakest performers were the fuel efficient compact Focus and subcompact Fiesta. Chrysler, too, saw an incredibly strong month of sales–its numbers were driven in large part by Jeep SUVs and the Dodge Durango SUV. And those purchases of less fuel efficient vehicles come as gas prices are still well above $3 per gallon.
But for the Obama Administration's Environmental Protection Agency, the reality of consumer demand doesn't matter. Under a new rule, automakers would be required to double current fleet-wide fuel economy by 2025. That would require a crackdown on the internal combustion engine, increased production of electric, fuel-cell, and hybrid models, dangerously lighter vehicles, and nearly $3,000 in added costs per vehicle. In other words, the EPA wants to force the auto industry to make Americans spend more money to buy vehicles that today they're choosing not to buy.
Source material can be found at this site.