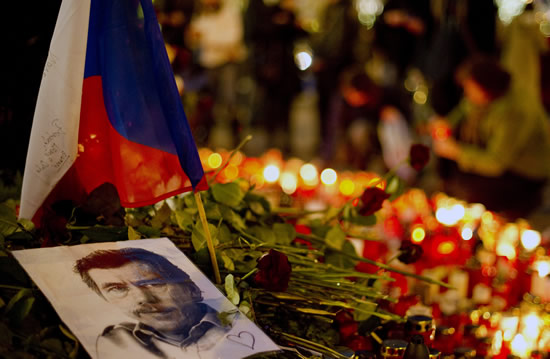 The reaction of bloggers in two remaining communist dictatorships to the recent deaths of pro-freedom crusader Vaclav Havel and his polar opposite, North Korean tyrant Kim Jong Il, tells you all you need to know about why communists can't hold elections. In the restricted cyberspace afforded to Chinese and Cubans Havel is being hailed as a hero while Kim is derided for the evil he represented.
In a roundup on Chinese cyber reactions to the two deaths, the BBC observed that contrary to China's official stance, comments by Chinese microbloggers have been generally pro-Havel, the former dissident and writer who went on to become the leader of a free Czechoslovakia, and anti-Kim Jong-il, the paunchy dictator who inherited power from his father, another despot named Kim Jong-Il.
"When Havel died yesterday, we were very sad. But after Kim Jong-il died, we are celebrating. It's not because we don't value life or don't think life is equal, but that we know better the true value of life. Some people bring nothing but shame to life!" the BBC quoted well-known blogger Yang Hengjun as writing on the blog Sina Weibo.
Liu Chun, vice-president of Chinese internet giant Sohu, wrote, "between the two people who have just passed away, Havel and Kim Jong-il, I cannot possibly like Kim no matter how hard I try, and I cannot dislike Havel no matter how hard I try."
A third blogger, Zhu Youke, culture editor of the Guangzhou-based Southern Weekend newspaper, was quoted by the Beeb as saying: "Compared with Havel's death, the death of Kim Jong-il was nothing but a senseless epilogue of a farcical performance."
In Cuba, which has accorded the Orwellian Kim three days of official mourning and which is, like China, another communist dictatorship that remained silent on Havel's passing, bloggers have also drawn similar contrasts.
The poor Cubans have only a fraction of the cyber freedom than even the Chinese have, but the country's most famous blogger, Yoani Sanchez, wrote:
The government of Raul Castro has still not made the most minor public mention of the death of the Czech democrat but has decreed three days of official mourning for the death of the North Korean dictator Kim Jong-Il. Of the latter, the official media of his country says he wrote more than 1,500 books in his life, but none of these is read by any of us today. However, the author of The Feast and The Temptation (Havel) is everyday better known and admired by us. Like missionaries of a peculiar relition, many today distribute and propagate his writings throughout the island.
Many other Cuban bloggers echoed these sentiments.
These reactions from Cuban and Chinese dissidents are a far cry from the opinion of Kim voiced by Wendy Sherman, the Obama Administration's undersecretary of state for political affairs, who called Kim "witty and humorous" and "a quick problem-solver." Kim, of course, ran a country which Bret Stephens of The Wall Street Journal referred to this week as "a vast modern-day Auschwitz."
Mr. Obama, unlike this peers in France, Britain and Germany, has decided to skip Havel's funeral.
Follow Mike Gonzalez on Twitter @Gundisalvus
Source material can be found at this site.