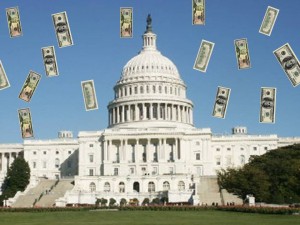 While millions of Americans saw their incomes decrease, their job opportunities dissipate and their home values drop as the economy dipped, the 535 men and women they elected to represent them in the U.S. Congress were not only shielded from the economic downturn but  gained during it.
The average American's net worth has dropped 8 percent during the past six years, while members of Congress got, on average, 15 percent richer, according to a New York Times analysis of financial disclosure.  The median net worth of members of Congress  is about $913,000, compared with about $100,000 for the country at large, the Times' analysis found.
This wealth disparity between lawmakers and the people they represent seems to be continually growing. Nearly half of Congress — 249 members  — are millionaires, while only 5 percent of American households can make the same claim.
Even among the super rich, members of Congress fare better than other wealthy Americans. While the net worth of the richest 10 percent of Americans has remained stagnant since 2004, lawmakers' net worth has seen double-digit growth, the Times reports.
Members of the House have fared especially well. From 1984 to 2009, the average net worth of the 435 House reps  more than  doubled, from $280,000 to $725,000, not including home equity,  according to a Washington Post analysis of financial disclosures.
And while lawmakers in the "people's house" grew significantly richer, the people they represent became slightly poorer, with the average wealth of an American household dropping from $20,600 to $20,500 over the same time period, the Post reports.
This growing disparity may be due, in part, to the rising cost of campaigning, which may deter less-affluent citizens from seeking public office.
To win a House seat, candidates spent an average of $1.4 million in 2010, four times as much as was spent in 1976, according to the Federal Election Commission. Winning a Senate seat is nearly 10 times as expensive, with the average successful Senate campaign shelling out nearly $10 million in 2010.

THIS IS HOW YOU FIX CONGRESS! We need to Propose the Congressional Reform Act of 2011:
1. No Tenure / No Pension.
A Congressman/woman collects a salary while in office and receives no
pay when they're out of office.
2. Congress (past, present & future) participates in Social
Security.
All funds in the Congressional retirement fund move to the
Social Security system immediately. All future funds flow into
the Social Security system, and Congress participates with the
American people. It may not be used for any other purpose.
3. Congress can purchase their own retirement plan, just as all
Americans do.
4. Congress will no longer vote themselves a pay raise.
Congressional pay will rise by the lower of CPI or 3%.
5. Congress loses their current health care system and
participates in the same health care system as the American people.
6. Congress must equally abide by all laws they impose on the
American people.
7. All contracts with past and present Congressmen/women are void
effective 1/1/12. The American people did not make this
contract with Congressmen/women.
Congress made all these contracts for themselves. Serving in
Congress is an honor, not a career. The Founding Fathers
envisioned citizen legislators, so ours should serve their
term(s), then go home and back to work.