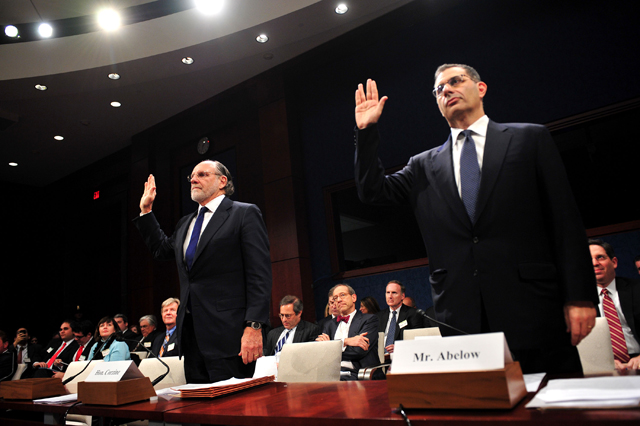 Before he became president of MF Global, the bankrupt brokerage firm that lost $1.2 billion in client money, Bradley Abelow spent time as New Jersey's treasurer and former Gov. Jon Corzine's chief of staff. In those roles, Abelow served alongside Lisa Jackson, who led the state environmental protection department and eventually succeeded Abelow as Corzine's chief of staff.
Jackson now directs the Environmental Protection Agency in the Obama administration, and Abelow, despite a full-time job at MF Global, is still serving alongside her. The former Goldman Sachs executive holds the title of chairman for EPA's Environmental Financial Advisory Board. Even though MF Global is embroiled in a major scandal and under federal investigation, the EPA still lists Abelow on its website as the head of the 27-member board.
Abelow's position is unpaid and the board's work is advisory in nature. According to an EPA publication, the board plays "a vital role in helping EPA consider ways communities can effectively finance their environmental infrastructure costs as well as in exploring ideas for promoting opportunities for the growth of a green economy."
The Washington Times first reported Abelow's role at EPA on Nov. 9, shortly after MF Global declared bankruptcy and revealed the $1.2 billion had gone missing. Since then, federal authorities have been investigating. Corzine and Abelow have also appeared before House and Senate committees to testify.
During those hearings, not one member of Congress asked about Abelow's chairmanship of the EPA's Environmental Financial Advisory Board. The Washington Times reports, "Even as he finds himself the public face of a bankruptcy and admitted to lawmakers that he had no idea how client funds disappeared, Congress and the administration have voiced no public concern about Mr. Abelow's role advising the $8.6 billion government agency on its finances."
In addition to his political ties to Corzine and Jackson, Abelow is also a prominent campaign contributor. The Times, citing data from the Center for Responsive Politics, reported donations of more than $90,000 to Democrat candidates and causes since 2007. Abelow made a $30,800 donation to the Democratic National Committee earlier this year and gave $10,000 to the Democratic Senatorial Campaign Committee last year. He gave the maximum to to President Obama's this year and for his 2008 campaign.
Source material can be found at this site.