When it comes to how Americans view President Obama going into the new year, there appears to be very little spirit of Auld Lang Syne. Instead, according to the new Washington Whispers poll, many voters aren't forgetting what they dislike about Obama and want him out office.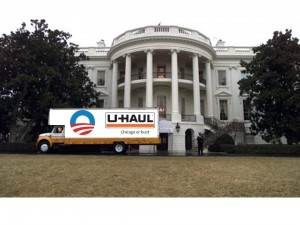 In our New Year's poll, when asked what news event they fear most about 2012, Americans by a margin of two-to-one said Obama's reelection. Only 16 percent said they fear the Democrat won't win a second term, while 33 percent said they fear four more years. [Check out the top political events of 2011]
Next to Obama's reelection, 31 percent of Americans said they feared higher taxes, which may be proof that the president's focus on the payroll tax cut has hit paydirt.
The poll, however, held out some hope for Obama. Some 38 percent of younger Americans, 18-24, said their biggest fear was higher taxes. Just 28 percent of those same voters said they feared Obama winning in November.
But in results backed up by other polls, older Americans and those earning $75,000 or more are especially worried about the president getting a second term, according to the poll done by Synovate eNation.
Nearly half of Americans 65 and older said Obama's reelection was their top fear, 39 percent of those making $75,000 or more agreed.
As we enter the presidential election year of 2012, what potential news event do you fear the most?
President Obama wins reelection 33%
Taxes will increase 31%
Iran will get a nuclear weapon 16%
Obama will lose reelection 16%
North Korea will attack South Korea 4%
Source: The Synovate eNation Internet poll was conducted December 29-January 2 among a national sample of 1,000 households by global market research firm Synovate.