In 2012, social media sites such as Facebook and YouTube have become an indelible part of mainstream culture. Another social media site, Twitter, however, may be the most influential in shaping public opinion. With 100 million members, half of whom post on the site daily, it's a mistake to overlook Twitter's impact, especially on key groups such as journalists and other opinion leaders.
Indeed, many Israeli officials, ministries and diplomatic missions have their own Twitter accounts for sharing info and engaging the public. In 2009, the Israeli consulate in New York held the first ever Twitter press conference, taking questions about the Gaza war directly from people.
David Saranga, who organized that historic event, best articulated the thinking behind the public diplomacy that is now commonplace:
Our biggest lesson was the importance of making ourselves available to people through a medium they understand.
Anyone who has been reading HonestReporting for the past few years knows that Twitter posts, as short as they are, have the power to make or break careers. In 2010, CNN reporter Octavia Nasr posted a tweet about her respect for Lebanese Grand Ayatollah Mohammed Hussein Fadlallah, a spiritual leader for Hezbollah. Within days, Nasr's long career as a journalist was wiped out in less than 140 characters as CNN fired her for the single tweet.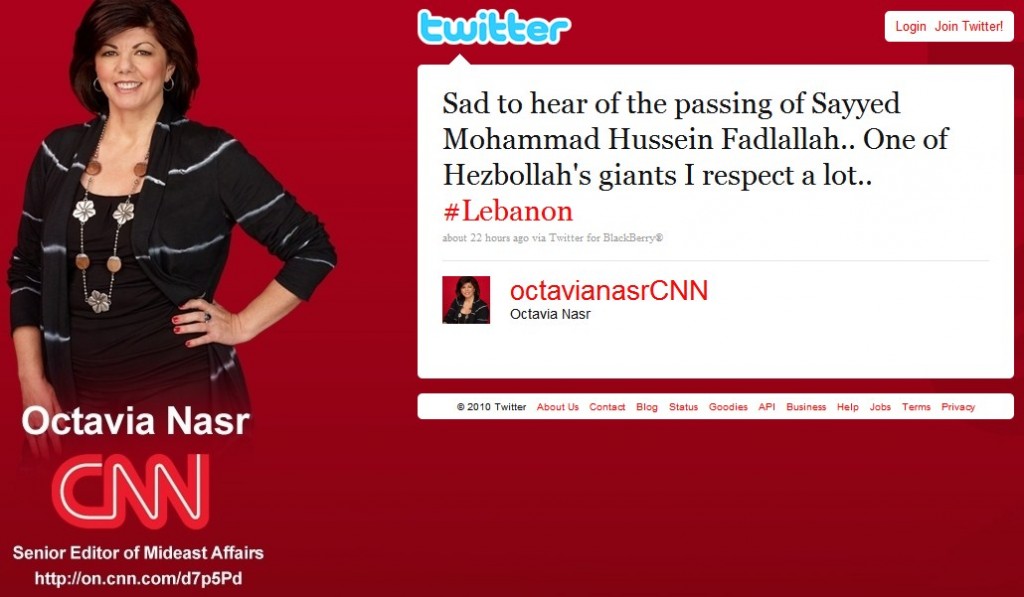 More recently, the Israeli Law Center, Shurat HaDin, has threatened to sue Twitter for allowing Hezbollah and other organizations deemed terrorist by the US government to maintain accounts on the site. In a letter to Twitter CEO Richard Costolo, Shurat HaDin claimed that providing the communications platform and services to terror groups "constitute the type of seemingly innocuous material support that would render your company and you personally criminally and civilly liable."
At the same time, Twitter has been a major catalyst for change in virtually every large-scale social action, from protests against fraudulent elections in Iran in 2009 to the fall of Egyptian dictator Hosni Mubarak in 2010. It serves as an easy form of communications between large groups of people.
You may also like: Social Media Trends for 2012
The term Twitter Revolution has also entered the lexicon, referring to people using the site to communicate their plight when repressive regimes attempt to stifle contact with the outside world.
So while Twitter posts may appear trivial to people who are outside the Twitter universe, most of the world's movers and shakers are on the site daily networking, keeping up with current events, and promoting their world view. Harnessing the power and reach of Twitter, then, is essential to maximizing one's impact on the world.
Source material can be found at this site.