The efforts to parcel off and sell out entire sectors of America's infrastructure to foreign interest continues daily. HR 7, the bill at issue here would put tolls on roads American taxpayers funded and paid for and which they continue to fund through gasoline taxes diverted to the Transportation and Highway Trust account at the IMF. Of course, that trust fund, just like Social Security has been raided continually by the federal government since its inception leaving a negative balance for that particular identified revenue stream. The money the federal government invested in the original construction of these highways and freeways was garnered from individual taxes and was not taken from some non-existent private account owned by the Fed. The Fed has no money of its own.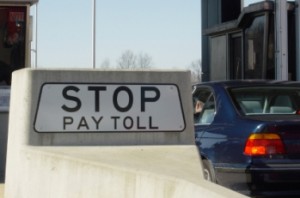 HR 7 will effectively end our right to travel freely by making the cost of travel so expensive, that we won't travel.
From www.texasturf.org Texas Turf:
It's been 7 years since Congress passed the last federal highway bill. Now its racing through Congress at the speed of light — why? Because they want to sell-off our public roads to private corporations, raise your taxes through tolls, and lift the ban on imposing tolls on existing highways. There are 500 toll projects being contemplated inTexas alone!
An amendment to allow tolls on ALL existing interstates in all 50 states is expected to be presented on the floor by Senator Carper of Delaware. Imposing tolls on existing freeways is a massive DOUBLE TAX — charging motorists an additional tax, a toll, to use what they've already built and paid for!
The current House Bill, HR 7, only bans tolls on existing FEDERAL interstates. It GUTS the ban on imposing tolls on existing STATE highways — a ban that Sen. Kay Bailey Hutchison put in place for Texas since 2007. The fate our public freeway system is under attack!
Government has figured out that instead of solving congestion, they can manipulate it for a profit (by keeping your free lanes congested and forcing people to pay a premium to get mobility). They're terrified to raise the gas tax, but have no problem imposing tolls on all new capacity to our roads, even on EXISTING lanes that we travel today without tolls.
It costs 1-2 cents per mile to travel a gas tax funded freeway, but anywhere from 20 cents a mile up to 75 cents per mile to use a toll lane. It's an explosion in our cost to travel. A gas tax funded road costs PENNIES a day, a toll road costs DOLLARS a day and THOUSANDS more in new taxes per year.
The way toll roads are being financed today, ALL Americans are paying to build them through subsidies of taxpayer money like gas tax, but you won't be able to use them without paying a toll, too (a DOUBLE TAX)! So whether you can afford to take these toll lanes or not, you're paying for them. This notion that tolls are user fees is a myth when you look at how heavily they're subsidized by ALL taxpayers. You're also paying for them through a higher cost of goods that gets passed onto consumers.
Selling us out
Both the House and Senate versions of the federal highway bill, dubbed the American Energy & Infrastructure Jobs Act, include public private partnerships (or PPPs) that sell-off our public roads to private corporations in 50-99 year government-sanctioned toll road monopolies. PPPs use heaps of public money to socialize the losses, while they privatize and GUARANTEE profits for the private operators.
Columnist Michelle Malkin calls PPPs 'corporate welfare.' Fannie Mae and Freddie Mac were some of the first PPPs and eventually caused the sub-prime mortgage crisis and subsequent $1 trillion dollar taxpayer BAILOUT!
The TIFIA loan program is a HUGE source of funds used to subsidize ill-conceived toll roads that can't pay for themselves. It's the primary pot of taxpayer money given to these private, foreign corporations seeking to takeover ourU.S. highways using public private partnership toll road contracts.
NOTE: The first TIFIA loan was awarded to a private consortium in a PPP deal on the South Bay Expressway in San Diego. It went bankrupt less than three years later due to traffic projections that were off by over 40,000 cars per day! Taxpayers had to accept a write-down of nearly $80 million of a $172 million federal TIFIA loan in yet another taxpayer bailout for private corporations.
The TIFIA loan program is all BORROWED money from the Federal Reserve, so who will have to bailout these toll roads when the cars don't show up as they didn't in San Diego along with other projects across the country? YOU and me, the taxpayer.
Think about it – PPPs give private corporations the power to TAX! They are granted the power to levy unlimited toll taxes on the traveling public – and we can't hold corporations accountable like we can politicians at the ballot box. This is why politicians LOVE PPPs. They get to OUTSOURCE the taxation to their special interest buddies and makes us pay back our own money with interest through tolls!
Rather than get rid of the failed TIFIA loan program, the federal highway bill INCREASES TIFIA funding by nearly TEN times from $100/yr to $1 BILLION/yr. Current law requires the taxpayers to be paid back first, now in the bill as written, private interests would get paid back first and taxpayers would be paid back last.
PPPs also contain non-compete clauses that prohibit or penalize the expansion of free roads surrounding the privatized toll roads, guaranteeing congestion on the free routes.
Also, PPP toll contracts allow private entities to benefit from the use of eminent domain, and they result in toll rates as high as 75 cents a mile. That's like adding $15 to every gallon of gas you buy!