How often are Palestinian stone throwing attacks presented by the media as a minor nuisance or a merely symbolic form of resistance against well-armed Israelis?
The reality is that such attacks can seriously injure or kill as was the case in September 2011 when Asher Palmer and his infant son Yehonatan were killed when their car crashed as a result of a stoning attack.
As YNet News reports, Israeli teacher Zehava Weiss is extremely lucky to have escaped unharmed in another such attack this week:
Luckily, Weiss said, her car is armored, but even so "the windshield was shattered and the exterior was dented in several places. They were throwing bricks, not stones."
The moment of the attack was caught by both AFP and AP photographers.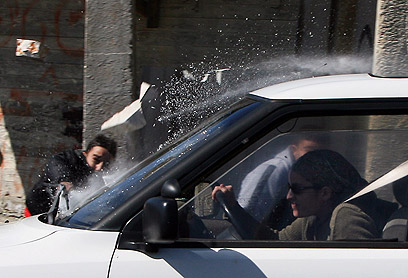 These images beg the question about the role of those photographers in this incident. We've seen many times how incidents such as this only occur if Palestinian youths have an audience. Clearly the presence of the media influences the situation. There have even been suggestions of active collusion with the stone throwers in order to create the perfect image for the watching media.
Source material can be found at this site.