Andrew Breitbart, the outspoken conservative writer, activist and website operator, has died unexpectedly in Los Angeles, where he lived with a wife and four young children. He was 43.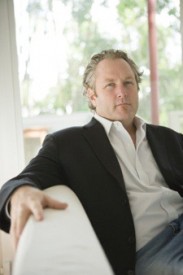 Breitbart was pronounced dead at the UCLA Medical Center shortly after midnight, the Los Angeles County coroner's office told Yahoo News. The cause of death was not immediately known, a spokesman at the coroner's office said.
One of his websites, BigGovernment.com, announced his death early Thursday.
"Andrew passed away unexpectedly from natural causes shortly after midnight this morning in Los Angeles," the note on his website read. "We have lost a husband, a father, a son, a brother, a dear friend, a patriot and a happy warrior. Andrew lived boldly, so that we more timid souls would dare to live freely and fully, and fight for the fragile liberty he showed us how to love."
It's unclear what those natural causes were. A representative for the website did not immediately return a request for more information. According to the Associated Press, Breitbart collapsed while walking near his home in Westwood Hills.  Paramedics could not revive him after he collapsed, his father-in-law Orson Bean told the Associated Press. A neighbor saw Breitbart fall and called 9-1-1. Emergency crews tried to revive him and rushed him to the emergency room at UCLA Medical Center, Bean said.
Breitbart had suffered heart problems a year earlier, but Bean said he could not pinpoint what happened.
"I don't know what to say. It's devastating," Bean told AP.
"He was one of the most fearless people I ever knew," a shaken Jonah Goldberg, founding editor of the National Review Online, said on Fox News. "One of his favorite pastimes was to retweet all of the hate that people threw at him, because he considered it a badge of honor. It was his Wheaties."
Goldberg added: "He was the modern conservative's iteration of a 1960s radical. He loved the fight."
"He was completely fearless," Tucker Carlson, editor of the Daily Caller, said. "And he thrived on the brawling."
"I'll remember his enormous, brawling passion and ready good cheer," ABC News' Terry Moran wrote on Twitter. "For better and worse, he reshaped modern journalism."
"What a huge loss, in my opinion for our country and certainly for the conservative movement," Rick Santorum told press traveling with his campaign. "My prayers go out to his family."
"RIP 'O Mighty Warrior!" Texas Gov. Rick Perry wrote on Twitter.
"The conservative movement has lost a powerful voice in the fight to protect our freedom," Ned Ryun, president of the American Majority and one of Breitbart's friends, said. "Andrew was a pioneer in using social media and digital technology to bring a courageous conservative message to America's grass roots. He did something many in the conservative movement are afraid to do–go right at the left and not back down. He served as an example to the rest of the conservative movement of how to fight for our values without apology or compromise."
Breitbart's death was also a blow to his liberal friends, too.
"It was always funny to many of his friends that Andrew Breitbart, after he became famous, was probably most famous for being a 100 percent polarizing political lightning rod," Matt Welch, editor-in-chief of Reason magazine, wrote on Thursday. "The reason that was funny was two-fold: He didn't actually have strong philosophical/policy beliefs–at all–and he was always perfectly comfortable and perfectly welcome in ideologically and culturally diverse settings."
"I was asked many times this morning for my thoughts on what Andrew meant to the political world, but all I can think of at the moment is what Andrew meant to me as a friend, starting from when we worked together," Arianna Huffington wrote in an email to Yahoo News. "His passion, his exuberance, his fearlessness. And above all, what I'm thinking of at the moment is his amazing wife Susie and their four beautiful young children. My love and thoughts are with them right now."
Breitbart helped launch the Huffington Post before moving the Drudge Report–where he served as Matt Drudge's deputy–and eventually launching his own cache of right-wing websites, including Breitbart.com, Breitbart.TV, Big Government, Big Hollywood, Big Journalism and Big Peace.
And in the hothouse world of online political media, they broke some big news. Breitbart–who oncetold Slate his "entire business model is to go on offense"–was credited with breaking a series of undercover videos showing alleged malfeasance at the offices of community-organizing group ACORN.
Last June, Breitbart's BigGovernment.com broke the original story of New York Rep. Anthony Weiner's lewd Twitter photo, which Weiner initially denied was his, then a cache of photos on Monday that forced Weiner's hand. At Weiner's infamous second press conference to confess to his improprieties, Breitbart preempted Weiner, grabbing the microphone.
"I'm here for some vindication," Breitbart barked. "The media says, 'Breitbart lies, Breitbart lies, Breitbart lies.' Give me one provable lie." (Jon Stewart later compared Breitbart scene-stealing appearance at Weiner's presser to Kanye West.)
"He was probably the most fearless person I ever met," Greg Gutfeld, host of Fox News' "The Five," said.
Before his passing, Andrew Breitbart claimed to have had film footage of now US President Barack Obama during his young, socialist and radical college years. Breitbart told the CPAC audience that he will release them later this year, during the upcoming presidential campaign to expose Obama's radial roots.
[youtube -fRQ2lIQ3Lg nolink]