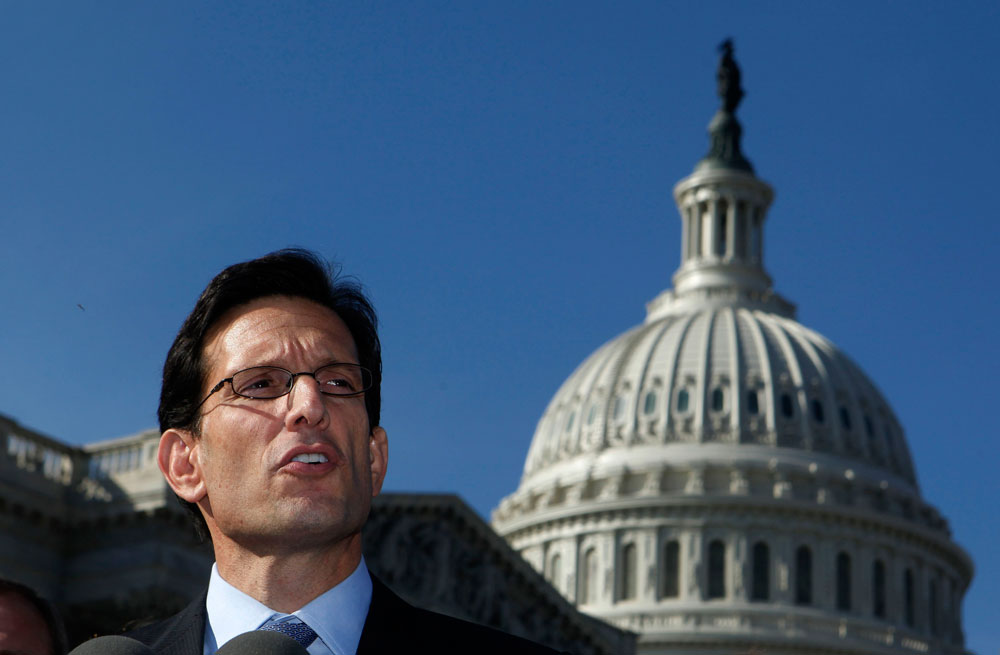 In a move designed to make it easier for smaller businesses to raise money for expansion and job creation, House Majority Leader Eric Cantor (R–VA) has announced that he intends to package together six existing smaller bills into a bipartisan package. The combination, to be known as the Jumpstart Our Business Startups (JOBS) Act, is expected to be joined by similar legislation in the Senate.
Cantor's package provides growing small businesses with relief from a series of Securities and Exchange Commission (SEC) regulations that sharply limit their ability to raise money by selling stock. In most cases, selling stock is considerably cheaper in the long run than borrowing for business expansion. Of the six specific bills, three have already passed the House by huge bipartisan majorities; two have been approved by the House Finance Services Committee by similar margins; and the sixth has been referred to that committee but not considered.
The six parts of the JOBS Act are:
The Reopening American Capital Markets to Emerging Growth Companies Act introduced by Representative Stephen Fincher (R–TN), which would make it easier for smaller businesses to go public by providing temporary relief from certain SEC regulations. The House Financial Services Committee approved the bill by a vote of 54–1. A Senate version introduced by Senators Pat Toomey (R–PA) and Chuck Schumer (D–NY) also exists.
The Access to Capital for Job Creators Act introduced by Representative Kevin McCarthy (R–CA) removes an SEC regulatory ban that says small businesses cannot use advertisements to attract investors. It passed the House by a 413–11 vote. Senator John Thune (R–SD) has introduced a Senate version.
The Entrepreneur Access to Credit Act introduced by Representative Patrick McHenry (R–NC) would eliminate SEC restrictions on "crowdfunding," an increasingly popular way for small businesses to raise money from a large pool of individual investors. It passed the House by a 407–17 vote.
The Small Company Capital Formation Act introduced by Representative David Schweikert (R–AZ) would increase the threshold of companies that are exempted from SEC regulation to $50 million from $5 million. This bill passed the House by 421–1. A Senate version was introduced by Senator Jon Tester (D–MT).
The Private Company Flexibility and Growth Act, also introduced by Schweikert, would expand the number of shareholders that a smaller business can have before it must meet SEC registration requirements to 1,000 from 500. It was approved by the Financial Services Committee by a voice vote. Senator Pat Toomey (R–PA) introduced a Senate version.
The Capital Expansion Act introduced by Representative Ben Quayle (R–AZ) would change an SEC requirement to increase the number of shareholders allowed to invest in a community bank to 2,000 from 500. The bill has not been considered.
These seemingly technical bills would greatly increase the ability of smaller businesses to grow and to create jobs, while signaling that both Congress and the Obama Administration are serious about dealing with unemployment.
Source material can be found at this site.