UN Investigating "False Photo" Tweeter
March 19, 2012 14:39 by Alex Margolin
The UN says there will be an internal review to determine if any action will be taken against False Photo Tweeter Khulood Badawi.
Now is the time to let the UN know that there is no place in the organization for people who post false and damaging propaganda against Israel.
In four days, our petition demanding the UN fire Badawi has reached 10,000 names. Please sign if you haven't already and spread the petition to anyone who wants to fight anti-Israel propaganda from the UN.
Every signature reinforces the message that the UN must act against Badawi or face major damage to its credibility. We will deliver our petition to the head of the Office for the Coordination of Humanitarian Affairs (OCHA), where Badawi works, within 10 days.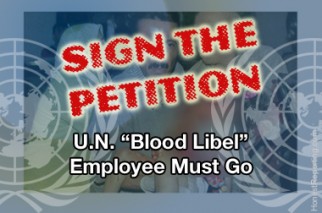 Here is an update of recent developments:
After HR revealed that the false tweet had been posted by a UN employee, news spread to the highest levels of the Israeli government, culminating with an official demand from UN Ambassador Ron Prosor  that the UN fire Badawi.
In a strongly worded letter, Prosor noted, "Ms. Badawi stands in complete violation of articles 100 and 101 of the UN Charter." The articles refer to the principles of objectivity and non-partisanship expected of UN workers. The principles include the statement that employees "shall refrain from any action which might reflect on their position as international officials responsible only to the Organization."
In response to Prosor's letter, UN Under-Secretary General Valerie Amos wrote, "It is regrettable that an OCHA staff member has posted information on her personal Twitter profile, which is both false and which reflects on issues that are related to her work. The opinions expressed in her tweets in no way reflect the views of OCHA, nor has it been sanctioned by OCHA." 
Source material can be found at this site.