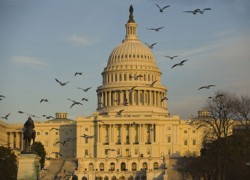 "Hallelujah" overstates the point, but we are pleased that the Senate on Thursday accepted the revisions to the STOCK Act made by the House of Representatives.
As Heritage explained in two earlier Issue Briefs on this subject, the additional public corruption provisions that the Senate initially wanted to include in the bill gave rise to a batch of different potential overcriminalization issues. Some of them were definitional problems that, perhaps, could have been remedied by redrafting the bill.
If Congress is going to outlaw conduct and send people to prison when they commit it, it is incumbent on Congress itself to spell out precisely what is verboten. Otherwise, the courts would have been left with that job, which is not the way to run a railroad.
But some of the issues raised by the Senate version of this legislation went to the heart of two competing visions of the proper relationship between the federal and state governments. Reasonable people can disagree in good faith over the proper scope of each one – they have, in fact, since Gibbons v. Ogden was decided in 1824, if not beforehand – and they will continue to disagree over that issue as time goes by.
Nothing in the version of the bill headed to the President keeps Congress from revisiting this subject later this year or in the sweet by-and-by.  If that were to happen, we hope that issues such as these receive the debate that they deserve. For now at least, the debate is over.
Hallelujah!
Source material can be found at this site.