A Jewish group said on Friday that a Holocaust memorial has been vandalized in the western Ukrainian city of Lviv, The Associated Press reported.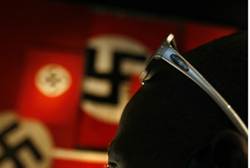 Oleksandr Nazar of the city's Sholem Aleichem Jewish Culture Center told the news agency that unknown assailants on Wednesday smeared red and blue paint over the memorial in central Lviv.
Nazar told AP the vandals also wrote a statement on the memorial which, as he put it, "humiliates both Jews and Ukrainians."
He said that activists have cleaned off most of the paint and that Lviv police have launched an investigation.
Lviv, a vibrant center of Jewish life before the Holocaust, is now home to a few thousand Jews, Nazar told AP. Some 1.4 million of Soviet Ukraine's 2.4 million Jews were executed, starved to death or died of disease during World War II.
Jewish groups have said that anti-Semitism persists in Ukraine. Two years ago, Chabad-Lubavitch yeshiva student Aryeh Leib Misinzov was murdered by a gang of neo-Nazis.
Channel 2 News on Friday quoted a statement by the Sholem Aleichem Jewish Culture Center condemning the incident.
The statement, according to the report, said, "It is hard to ignore the surprising apathy of bystanders who were at a bus stop nearby while the memorial was being vandalized. There is no doubt that they saw what was going on, but none of them bothered to call the police. Only when our people saw the damage was a complaint filed."
The organization said it intends to turn to the mayor of Lviv and to the Ukrainian Interior Ministry to demand that the criminals who desecrated the monument be punished "to the full extent of the law."
Source material can be found at this site.