Brazil has achieved greater energy security thanks to its focused commitment to developing a competitive sugarcane industry and making ethanol a key part of its energy mix. In fact, Brazil has replaced more than half of its gasoline needs with sugarcane ethanol – making gasoline the alternative fuel. Many observers point to Brazil's experience as a case study for other nation's seeking to expand use of renewable fuels.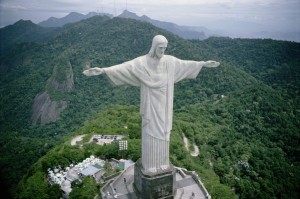 The Brazilian Success Story
The country first began using ethanol in vehicles as early as the 1920s, and the trend gained urgency during the oil shock of the 1970s. But, sugarcane ethanol's popularity took off in 2003 with the introduction of flex fuel vehicles that run on either gasoline (which in Brazil also includes 20%-25% ethanol) or pure ethanol. More than 90% of new cars sold today in Brazil are flex fuel, and these vehicles now make up about half of the country's entire light vehicle fleet – a remarkable accomplishment in less than a decade.
As a result, Brazilian consumers have a choice at the pump when they fuel their cars and most are choosing the sweeter alternative – sugarcane ethanol. Since 2008, total ethanol sales surpassed that of gasoline in Brazil, making gasoline the alternative fuel in the country and providing Brazilians with a more secure energy future.
To meet this rising demand for food and energy, the Brazilian sugarcane industry harvests over 600 billion tons of sugarcane each year using only about 2.9% of the country's arable land. Maximizing that raw material, the industry produces 38 million metric tons of refined "table" sugar annually; seven billion gallons of ethanol; and enough electricity to power about 3% of Brazil's needs.
All told, sugarcane is the number one renewable energy source in Brazil, supplying one-sixth of the country's total energy requirements. Besides its diverse and secure energy matrix, the benefits of Brazil's sugarcane program include:
Reduced Emissions – Environmental officials estimate the use of sugarcane ethanol in Brazil has reduced that country's greenhouse gas emissions by some 600 million metric tons of carbon dioxide since 1975.
Greater Economic Growth – Economists estimate that Brazil's total economic output is 35% higher today than it would have been without the country's focus on diversified energy production – from offshore oil to sugarcane ethanol production.
Relevance to the United States
Sugarcane ethanol could help reduce America's dependence on oil from the Middle East, while helping to protect our environment.
By comparison, Brazil and the U.S. have both invested significantly in ethanol for more than 30 years. During that time, Brazil has diversified its energy options, eliminated its dependence on imported gasoline and cut government ethanol subsidies. Even though the U.S. is the world's largest ethanol producer, it has only replaced less than 10% of America's gasoline needs.
Sugarcane biofuels have the potential to reshape the world energy markets. More than 100 countries grow sugarcane, including the U.S., and many could repeat Brazil's successful model. There's room for growth as well. According to estimates by the U.N. Food Agricultural Organization (FAO), only 10% of the world's land that is available and suitable for cane production is actually used for sugarcane cultivation.
(SOURCE)