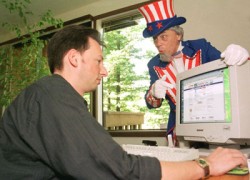 It's hard to deny the benefits of working for Uncle Sam — outstanding benefits, good pay, and great job security. Though some government workers might throw up their arms in protest when confronted with the facts, a new poll shows that nearly half of government workers now say private sector employees work harder than them. Government Executive reports:
Sixty-six percent of 1,000 adults polled recently by Rasmussen Reports said they believed private sector employees work harder than government employees, and 56 percent believed government workers earn more annually.

Nearly half of government workers in the survey — 46 percent — agreed they don't work as hard as their private sector counterparts; 32 percent said they work harder, and 22 percent were not sure. The government workers also saw eye to eye with their private sector counterparts about job security: 62 percent of government employees said they have more security and 67 percent of overall respondents held that view.
Where government workers are wrong is in their belief that the average private sector worker earns more money than them. (According to the poll, only 35 percent believe they make more.) In fact, the opposite is true, as Heritage analysis shows.
In July 2010, Heritage's James Sherk explained that on average salaries and benefits for identical jobs are 30 percent to 40 percent higher in the federal government than in the private sector. And in June 2011, Heritage's Jason Richwine authored a study showing that workers who change jobs receive a substantially larger raise when they switch into federal employment rather than into another private job. In February, the Congressional Budget Office (CBO) released a report confirming those findings.
These are averages—some government employees do get paid less than they would in the private sector. Here are some solutions: Congress should implement a pay-for-performance system, expand the contracting of federal work to private companies, raise the federal retirement age from 56 to 65, reduce the generosity of federal benefits, and end the near-absolute job security for underperforming federal workers.
Source material can be found at this site.