by Daniel Pipes
April 16, 2012
"Retired Gen. Çevik Bir jailed in postmodern coup case" reads the headline in Today's Zaman, complete with a picture of a policeman accompanying Bir as he left a courthouse after being arrested.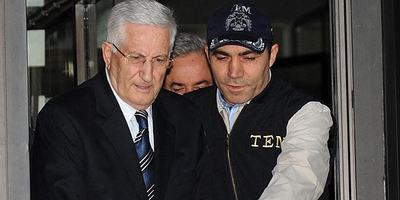 Bir is the Turkish military figure I have had the most contact with, so his arrest has a personal feel that the other incarcerations did not.
Here is a picture of him presenting me with a souvenir gift at military headquarters in Ankara in 1997. (April 16, 2012)
Source material can be found at this site.