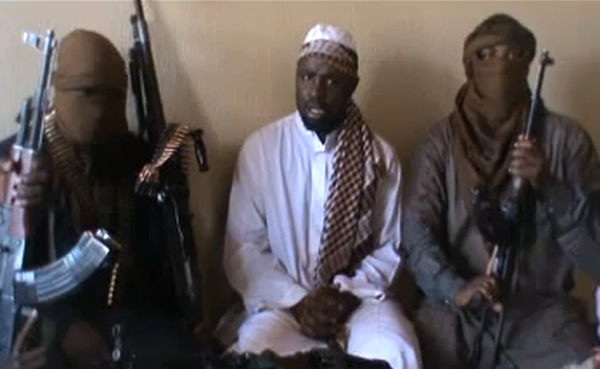 The past week has been a bloody one for Nigeria. Attacks in the capital city of Abuja and across the north have strongly implicated the Islamist insurgent group Boko Haram.
Yesterday, a suicide bomber targeted the police commissioner of Jalingo's motorcade. Although the attacker missed the motorcade, 11 people were reportedly killed when the bomber exploded near a roadside market.
Over the weekend, gunmen attacked a church service at Bayero University in Kano. The AFP reported that the attacks targeted Christian worshipers as they attended two services within the campus. At least 20 people were killed as they escaped homemade bombs and were gunned down as they fled.
Last Thursday, in Abuja and Kaduna, two suicide bombers targeted This Day newspaper offices, killing at least nine people. Boko Haram took responsibility, saying the attack was retaliation against the newspaper for publishing false statements about the group.
While visiting the site of the attack in Abuja, Nigerian President Goodluck Jonathan stated that the bombings were an attack on the "whole world." On Monday, Jonathan also made a statement assuring Nigerians to "remain united" as the attacks attempt to "destabilize the nation."
However, Jonathan's strong words have resulted in little action. Nigeria's federal government has had little success in preventing Boko Haram's attacks. Multiple attempts have been made to negotiate a truce with Boko Haram, including one last March. However, neither side has acquiesced to the other's demands, nor is there any indication that they will any time soon.
The Nigerian government has also increased its security sector budget, taking up 25 percent of Nigeria's total 2012 budget. However, considering the endemic unprofessionalism throughout Nigeria's security force, it is unlikely that throwing money at the problem will be an effective solution.
The United States has also shown interest in improving Nigeria's security. In 2011, U.S. Africa Command commander General Carter F. Ham acknowledged that his command working with the Nigerian government to "develop its counterterrorism capabilities." And, earlier this year, the U.S. State Department confirmed that a bomb technician working with the FBI is assisting the Nigerian government with the investigations.
Boko Haram will not be defeated unless the Nigerian government, in coordination with the U.S. and other international partners develop a comprehensive strategy. Tough rhetoric means little to Christians who are being targeted daily. The longer President Jonathan and his administration delay, the stronger Boko Haram will become.
Prudence Ukwishatse contributed to this blog post.
Source material can be found at this site.